Air Serbia flight delayed
Check your compensation rights. You can claim up to €600 per passenger. Check your flight now and we give you free advice within three minutes.
Check your compensation
Was your Air Serbia flight delayed for more than three hours?
Was your Air Serbia flight delayed and did you arrive at your end destination with a delay of three hours or more? Then, according to Regulation 261/2004 you may be entitled to a flight delay refund up to €600 per person.
When are my passenger rights protected if my Air Serbia flight has been delayed?
To have your passenger rights protected, your delayed flight must meet the following requirements:
The flight departed from an EU country
Or the flight departed from outside the EU to a country within the EU with a European airline
In addition, the flight arrived at its final destination with a delay of three hours or more
What if your Air Serbia flight was delayed due to extraordinary circumstances?
If the flight delay was due to an extraordinary circumstance, you are not entitled to compensation. When 'extraordinary circumstances' apply, the airline can prove that it was not responsible for the delay. Examples of such circumstances include adverse weather conditions and acts of terrorism.
Amount of compensation for your delayed Air Serbia flight
If your Air Serbia flight falls under EU Regulation 261/2004, the amount of compensation you are entitled to is based on the distance of the flight.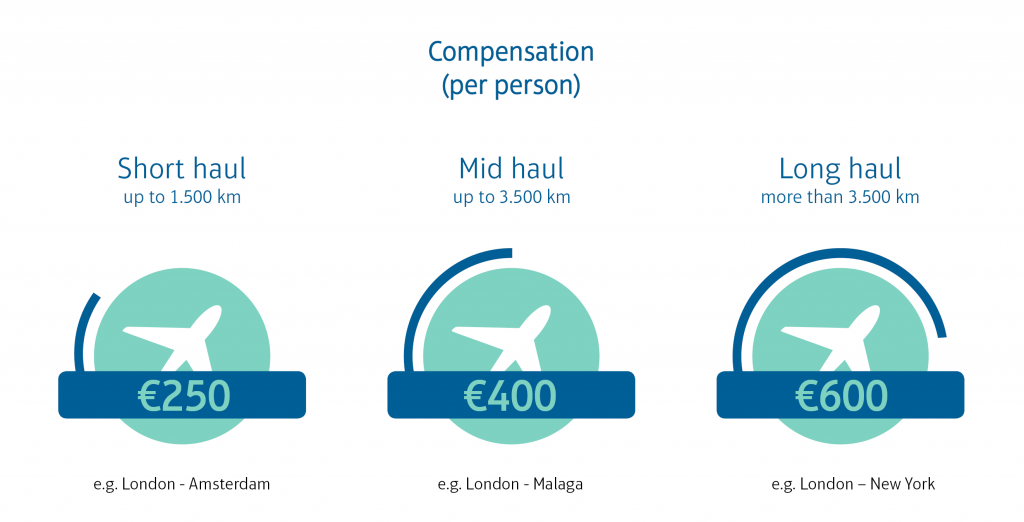 €250 compensation for a delayed flight up to 1500 km
€400 compensation for a delayed flight between 1500 and 3500 km
€600 compensation for a delayed flight exceeding 3500 km
When the distance of your flight is 3500 km or more and you arrive with a delay between three or four hours, you are entitled to 50% of the compensation amount.
* The route with which you flew and the airline that performed the airline are key in determining if your will fall with the scope of the EC 261 regulation (and be entitled to Euro's).
Calculate the distance of your flight
How to claim your right to Air Serbia flight delay compensation
We offer you free advice on whether you are entitled to compensation for your delayed flight to or from Air Serbia . Fill in your flight number and the date of the delayed flight in the free flight compensation calculator and you will immediately receive our advice.
Other rights regarding a Air Serbia flight delay
Was your flight delayed two hours or more? This means that the airline was obliged to provide you with food, drink and, if necessary, hotel accommodation.
EUclaim was founded in 2007 and helps airpassengers receive compensation from the airline. With our access to the Lennoc Flight Intelligence database, we are able to review over 3 million flights a day a and test them against the rules compliant with Regulation 261/2004 or The Air Passenger Rights and Air Travel Organisers' Licensing (Amendment) (EU Exit) Regulations 2019. Our data combined with our team of legal experts guarantees our 97 percent success rate in court. EUclaim helps you get compensation for your flight delay or flight cancellation.
Was your Air Serbia flight delayed?
Did you fly with Air Serbia and was your flight delayed? Click below to check whether you are eligible for compensation.
Claim with EUclaim is possible from a selection of countries and airlines
Legal proceedings are often necessary to obtain your compensation. EUclaim cannot process your claim in every country. If you check your flight, our database will automatically indicate if you can file a claim.
<h3>If you are flying to or from one of the following countries, you can file a claim</h3>
The Netherlands
Germany
Belgium
France
Spain
The United Kingdom
<h3>Or are you flying with an airline that originated in one of these countries? If so, you can also file a claim.</h3>
At this moment we support claims from the following airlines:
A J Services
Abelag Aviation
AD Aviation
AeBal
Aero Dienst
Aero Lloyd
Aero Nova
AEROTEC
Aigle Azur
Air Antwerp
Air Atlanta Europe
Air Belgium
Air Comet
Air Corsica
Air Europa Lineas Aereas
Air France
Air Horizons
Air Littoral
Air Madrid
Air Mediterranee
Air Nostrum
Air Scandic
Air Scotland
Air Southwest
Air Taxi
Air Toulouse
Air Wales
Airbus Industrie
Airbus Transport International
AirExel
Air-Taxi Europe
AIS Airlines
AlbaStar
Amelia
Atlantic Air Lift
Atlantic Air Transport
Atlantique Air Assistance
Augsburg Airways
Aurigny Air Services
Avanti Air
Axis Airways
Azur Air Deutschland
BA Cityflyer
BA Connect
BAC Express Airlines
BAC Leasing
Binair
Binter Canarias
Birdy Airlines
Blue Line
Blue Wings
bmi Regional
Bremenfly
Bristow Helicopters
Brit Air
British Airways
British Mediterranean Airways
British North West Airlines
Brussels Airlines
Brussels International Airlines
Canary Fly
Chalair Aviation
Challenge Air
Champagne Airlines
Cirrus Airlines
CLA Air Transport
Comfort Air
Condor Flugdienst
Corendon Dutch Airlines
Corsairfly
Coyne Airways
Daimler Chrysler Aviation
Dau Air
Denim Air
Deutsche Bahn
Deutsche Bahn AG
DHL Air Limited
Direct Flight
Dutch Antilles Express
Dynamic Air
Eagle Aviation France
East African Safari Air
Eastern Airways
easyJet
Emerald Airways
Euromanx
Euromannder
Europe Airpost
European Air Express
European Air Transport
Eurowings
Eurowings Discover
Evelop Airline
Excellent Air
Fai Airservice
Flightline
Fly European
Flybe
Flying Service
Flyjet
Ford Motor
French Blue
Gama Aviation
German Airforce
Germania
Germanwings
Girjet
Go
Go One Airways
Green Airlines
Gregg Air
Hahn Air Lines
Hahn Air Systems
Hahn Air Technologies
Hebridean Air Services
Heli Securite
Helitt
Hola Airlines
Holland Exel
HOP!
Iberia
Iberia Express
Ibertrans Aerea
Iberworld Airlines
INAER Helicopteros
Interflight
Islas Airways
Isles Of Scilly Skybus
Jet Connection
Jet2
Jetisfaction Aircraft
JOON
KLM
KLM Cityhopper
La Compagnie
Level France
LGW
Linksair
Loganair
London Executive Aviation
LTE International Airways
Lufthansa
Lufthansa
Lufthansa Cargo
Lufthansa Cityline
Metro Business Aviation
Mission Aviation Fellowship
MSR Flug Charter
Nice Helicopteres
North Sea Airways
Northeast Aviation Services
Occitania Jet Fleet
Octavia AirlinesOne Airways
Plus Ultra Línes
Redhill Aviation
Regional Compagnie Aerienne Europeene
Royal Air Force
Ryanair UK
Saint Barth Commuter
ScotAirways
Senator Aviation Charter
Shell Aircraft
Small Planet Airlines
SNCF
Spanair
SundAirSunExpress Deutschland
Swiftai
Sylt Air
Teamline Air
Thomas Cook Airlines Balearics
Thomas Cook Airlines Belgium
Thomas Cook Airlines UK
Thomsonfly
Titan Airways
TNT Airways
Trans States Airlines
Transavia Airlines
Transavia France
Transcaraibes Air International
Travel Service Spain
Triple Alpha
TUI Airlines België
TUI Airlines Belgium
TUI Airlines Nederland
TuiFly GmbH
Turkuaz Airlines
Twin Jet
Twinjet Aircraft Sales
V Bird
Vibroair
Vipper
Virgin Atlantic Airways
Virgin Express
Volotea
Vueling Airlines
Wamos Air
WDL Aviation
Windrose Air
Wizz Air UK
XL Airways France
Is claiming for your flight delay not possible with EUclaim? We advise you to file a claim directly with the airline.
Claim your compensation with EUclaim
If you are entitled to compensation due to the Air Serbia flight delay, it is important to claim compensation for the loss of time. If we can support claims from your country or your airline, we recommend claiming with EUclaim! Our claim service is on a no cure, no pay basis.
97% success rate

Submit your claim in 3 minutes

Free legal procedure

No cure no pay

16 years of experience in handling claims

Our success fee is always the same: 29% fee and €33 administration costs per claim
Recent problem flights Air Serbia