Christmas shopping in London
The holiday season is fast approaching and we are looking forward to the warm spirit that Christmas brings in our homes. Nothing says Christmas like the decorations, shopping and enjoying time with family. Let's focus on the shopping part for a moment, because nothing says Christmas shopping quite like London! We will give you some nice tips for your trip to our nation's capital.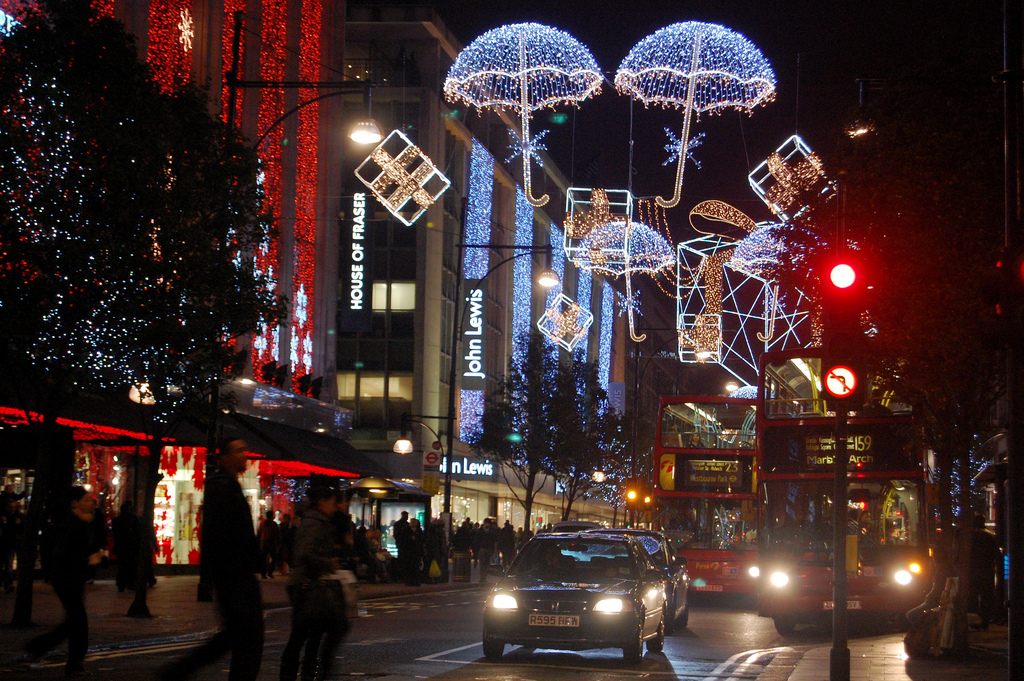 Hyde Park Christmas market
Nothing screams Christmas like the Hyde Park Christmas market. A Ferris wheel covered in lights, magical ice rink and circuses! The family friendly Christmas madness has all the kids rooting for Hyde Park as this year there is even a Polar bear palace on display. How much more fun does it get?! Well, there is also plenty of entertainment for the adults. An ice bar is serving spirits in real ice glasses or you can sip a hot chocolate by the fire. After a good shopping spree along the market stalls of course!
A Scandinavian touch or Leicester Square madness
At the Swedish Church in Marylebone, you can stop by a real Scandinavian Christmas market. Drink Glögg and shop the nicest traditional gifts and treats. Meatballs anyone? If you crave a more traditional Christmas market, you should make your way to Leicester Square near Picadilly Circus. Here you will find a vintage venue for lots of Christmas shows and of course, the treats and wanna-haves that every English Christmas market offers.
Shop till you drop
We listed the best London shops for your Christmas wish list! You can stroll for hours around the city's well-known department stores such as Harrods, Selfridges and Fortnum & Mason. Let's not forget the nicest shops for your budget and creative buys such as Paperchase for your unique cards and wrapping paper. Debenhams is a shopping favourite for the best and popular budget buys but there are also some really cool stores you may not have heard about yet. Shopping for kids? Make sure to check out Niddle Noddle. This cool shop offers the nicest gifts for little ones. Featuring items such as vintage fisher price to handmade dolls, they have it all! Couverture & The Garbstore is the place for unique and budget gifts under the Christmas tree, such as backpacks and blankets!
How to get there
We compared flights from six main UK airports to and from London, including the chances of your flight being delayed/cancelled for over 180 minutes.
| | | | | | |
| --- | --- | --- | --- | --- | --- |
| Airport | London Heathrow | London Gatwick | London Stansted | London Luton | London City |
| Jersey | X | 0.4 | X | X | 1.2 |
| Manchester | 0.4 | X | X | X | X |
| Glasgow | 0.2 | 0 | 0.6 | 0 | 3.2 |
| Edinburgh | 0 | 0.2 | 0 | 0 | 2.6 |
| Belfast | X | 1.3 | 0.4 | 0.5 | X |
| Newcastle | 0.3 | X | 0 | X | X |
December 2015
Based upon last December's figures, it is best and well-advised to avoid London City Airport. When you have the option we recommend to choose for any other London airport to ensure smooth flights without long delays. If your flight does face a long delay, you can get a compensation starting at €250! A nice surprise before Christmas. EUclaim can help you with this. When are you flying to London?