Flight delayed at London Heathrow? Tips on how to survive a delay!
In the event of a flight delay how do you spend your time in a relaxing way? At EUclaim we know that every delay is different. Therefore we list below some tips so that you can start your trip well relaxed and comfortably, despite the delay!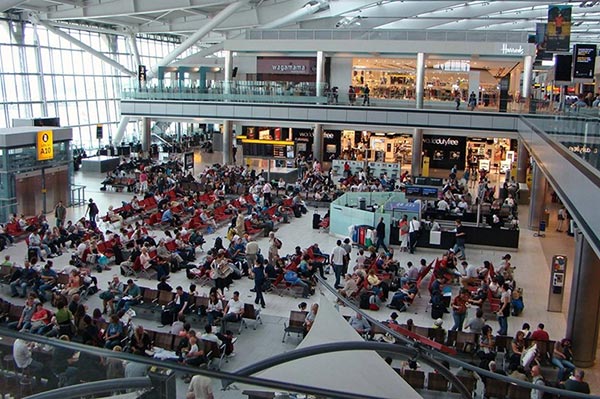 Delayed up to three hours
It can be inconvenient to say the least, starting your trip off with a delay. It's not too much of a problem when you have two weeks of fun in the sun ahead, but it's quite annoying if you're only going on a short weekend break to Amsterdam. However, there is a light in 'delay darkness', and it's called: shopping! At Heathrow airport there are plenty of shops to explore and get the weekend fun started. Visit Jo Malone, MAC and Zara for some last minute purchases.
Shopping can make you hungry and Heathrow's food courts have the answer. If you are looking for budget deals you can enjoy a good coffee at Costa and a nice lunch at Marks & Spencer or Giraffe. Fancier options are the Prince of Wales or Gordon Ramsey's Plane food. Make sure to check with your airline if there are food vouchers available.
Delayed by three to six hours
A delay exceeding three hours can be quite stressful and frustrating. The exact reason why you need to treat yourself to some relaxation time. Take a deep breath and calm your senses in the many meditation centers and chapels, or treat yourself to an ultimate spa treatment followed by a fresh detox juice at Giraffe stop or Leon. At the same time you could also check whether you are entitled to compensation using our claim calculator! With a delay exceeding three hours you  up to €600 in compensation.
Delayed by more than six hours
When your flight is delayed for a long period of time it can be nice to find some peace and quiet. Close to Heathrow there are plenty of hotels where you can get some sleep, such as the Hilton hotel, Yotel and Sofitel. If the delay requires you to spend the night at the airport, the airline is obliged to get you a hotel room. Meals and drinks (non-alcoholic) also have to be provided by the airline.
If the delay is up to ten hours you could benefit from the services of an airport lounge. There are a variety of lounges at Heathrow where you can enjoy some relaxation time, Wi-Fi and meals. You can check online whether you are entitled to compensation using our claim calculator. There are also daybeds available at the lounge in terminal 3.
Do you have any extra tips on how to spend your time during a delay? Let us and fellow readers know!
Photo ©: Map2City