Flights to and from Israel are cancelled
Impact on air traffic and passenger rights
Many airlines have temporarily suspended their flights to and from Israel, and there has been a significant reduction in air traffic through Israeli airspace. In this article, we examine the repercussions of the challenges faced by Israel on the aviation industry and the rights of passengers.
Impact on regional airspace
Recent developments in Israel have left their mark on flight tracking systems. The screenshot provided below is dated Monday, October 16, 2023, and has been sourced from flightradar24.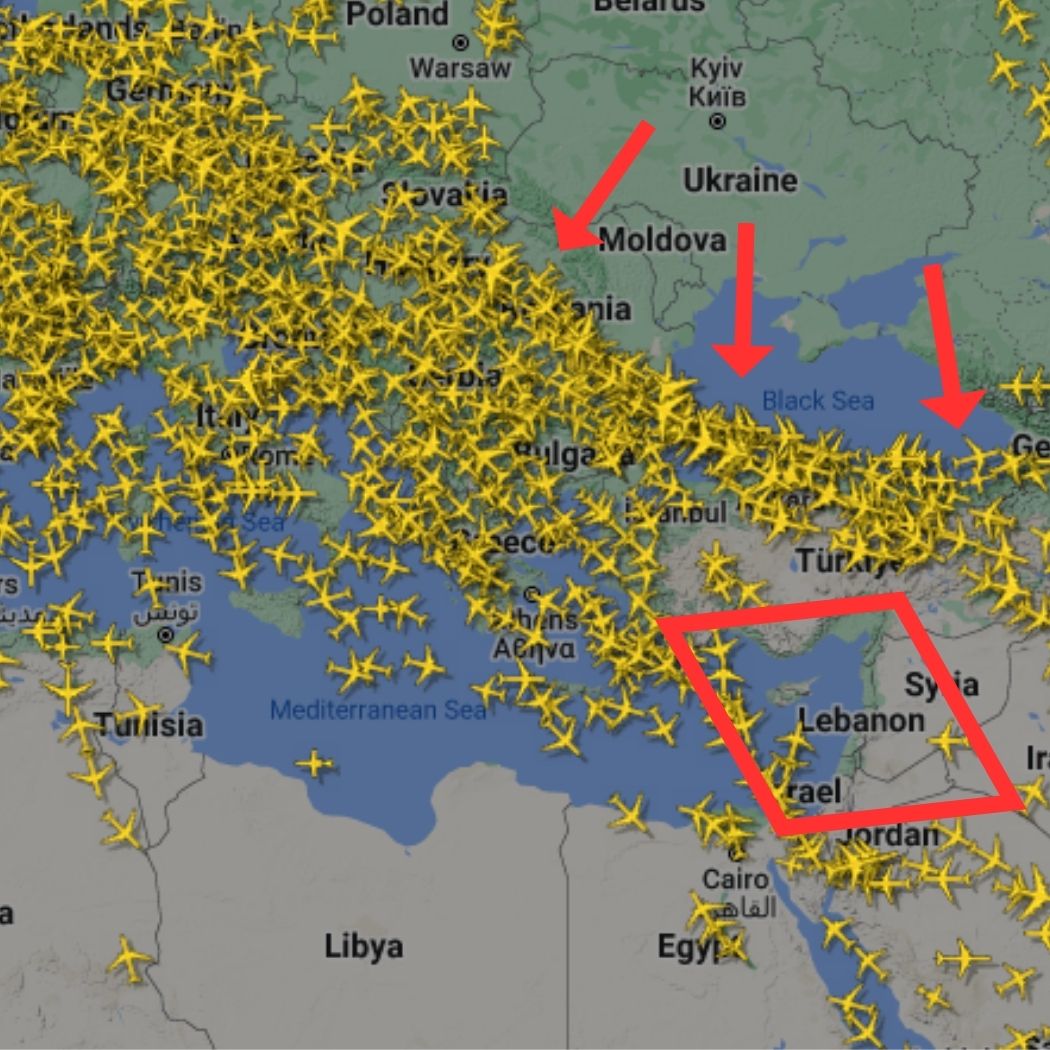 One notable observation is the void in flight paths above Israel and its northern neighbors, Lebanon and Syria. Even flights to and from Jordan are opting for detours, redirecting their routes further south across Egyptian airspace.
A similar situation is unfolding over Ukraine, where the ongoing conflict has led to airspace adjustments. Flights that would normally fly over Ukraine are shifting their paths to the south, while planes flying through Israel and other Middle Eastern regions are adjusting their routes to the north.
As a result, many flights from Europe heading to international hubs like the United Arab Emirates (including Dubai) and Singapore now traverse the airspace over Turkey. Consequently, Turkish airspace is witnessing a surge in air traffic.
Was your flight delayed or cancelled? Receive up to €600

Did you know you can receive up to €600 compensation for lost time? Act now and check if you are elligible for reimbursement.

Check your flight
Domestic flights and private jets
The only flights currently maintaining regular routes through Israeli airspace are domestic flights, specifically those shuttling between Eilat and Tel Aviv. If you time it right, you may even spot a repatriation flight or, on occasion, a private KlasJet flight on the live map of flightradar24. KlasJet  serve unique functions such as facilitating the travel of European Union delegations.
List of airlines with cancelled Israel flights
International airlines have suspended hundreds of flights to and from Tel Aviv following the outbreak of violence in Israel and Palestine over the week. Here's an overview of all European airlines:
Lufthansa, the parent company of Austrian Airlines, Swiss International Airlines, and Brussels Airlines, has canceled flights to and from Tel Aviv until Saturday.
Ryanair, Europe's largest airline in terms of passenger numbers, will not operate flights to and from Tel Aviv until Wednesday.
easyJet, a British carrier, has temporarily stopped flights to Tel Aviv until Friday and is adjusting flight schedules in the coming days.
Air France KLM has suspended flights without specifying when they might resume flights.
Transavia France, an Air France unit, has canceled flights until Thursday, and the status of flights from October 13 remains uncertain.
Norwegian Air has canceled flights between Copenhagen and Stockholm to Tel Aviv and return flights until December 19.
Finnair will not operate flights to Tel Aviv until the end of the Nordic winter season on March 30, 2024, and currently avoids Israeli airspace on its routes.
Wizz Air from Hungary has canceled flights to and from Tel Aviv until further notice.
Portugal's TAP has suspended flights to and from Tel Aviv, offering passengers with bookings until the end of October the option to rebook or request a refund.
Iberia and Vueling, both part of the IAG group, have suspended their flights to Israel indefinitely.
British Airways, also owned by IAG, has suspended flights to Tel Aviv after returning a flight to London due to security concerns.
Air Europa, another Spanish airline, canceled a scheduled flight to Israel and is evaluating the resumption of flights from Wednesday.
ITA from Italy has canceled flights to and from Tel Aviv.
Aegean Airlines has canceled all flights to and from Tel Aviv until Thursday.
Bulgaria Air canceled a return flight to Tel Aviv on Monday and Tuesday, with plans to operate a flight to and from Tel Aviv on Thursday as scheduled.
Air Malta canceled two return trips on Monday and Wednesday and will continue adjusting operations as needed.
Icelandair announced the cancellation of its last three scheduled flights to Tel Aviv on Sunday.
Virgin Atlantic has canceled a return trip to Tel Aviv on Tuesday and Wednesday, warning of possible delays or cancellations on its London Heathrow to Tel Aviv route.
Poland's LOT anticipates potential delays or cancellations of flights from Tel Aviv in the coming days.
Right to a cash refund ticket
If your flight has been canceled by one of these airlines, you are eligible for a refund, which means a full reimbursement of your ticket costs. Typically, the airline will notify you of this via email and provide you with three options:
A replacement flight.
A voucher equal to the value of your ticket.
A cash refund.
Option 3, a cash refund, is often the best choice. Recently, European countries have organized repatriation flights, making it possible to opt for these while still securing a refund for your canceled flights.
Our tip: don't cancel your flight yourself, but wait until the airline notifies you.
No compensation due to force majeure
In the event of flight cancellations to or from Israel, airlines are obligated to provide refunds, but compensation is not applicable. The current situation in Israel is considered an exceptional circumstance, falling under the category of force majeure, which exempts airlines from compensation liability.
Normally if an airline cancels a flight by their own admission, travelers are entitled to compensation. However, this compensation entitlement is not applicable in cases where the airline is not responsible for the cancellation. For an in-depth exploration of your compensation rights and the associated exceptions, you can find comprehensive information on our air passenger rights page.