Flying overweight: Do I fit in an airplane seat?
You are going to travel and are wondering if you will fit into an airplane seat. What should you do if you are unsure whether you can fit into an airplane seat?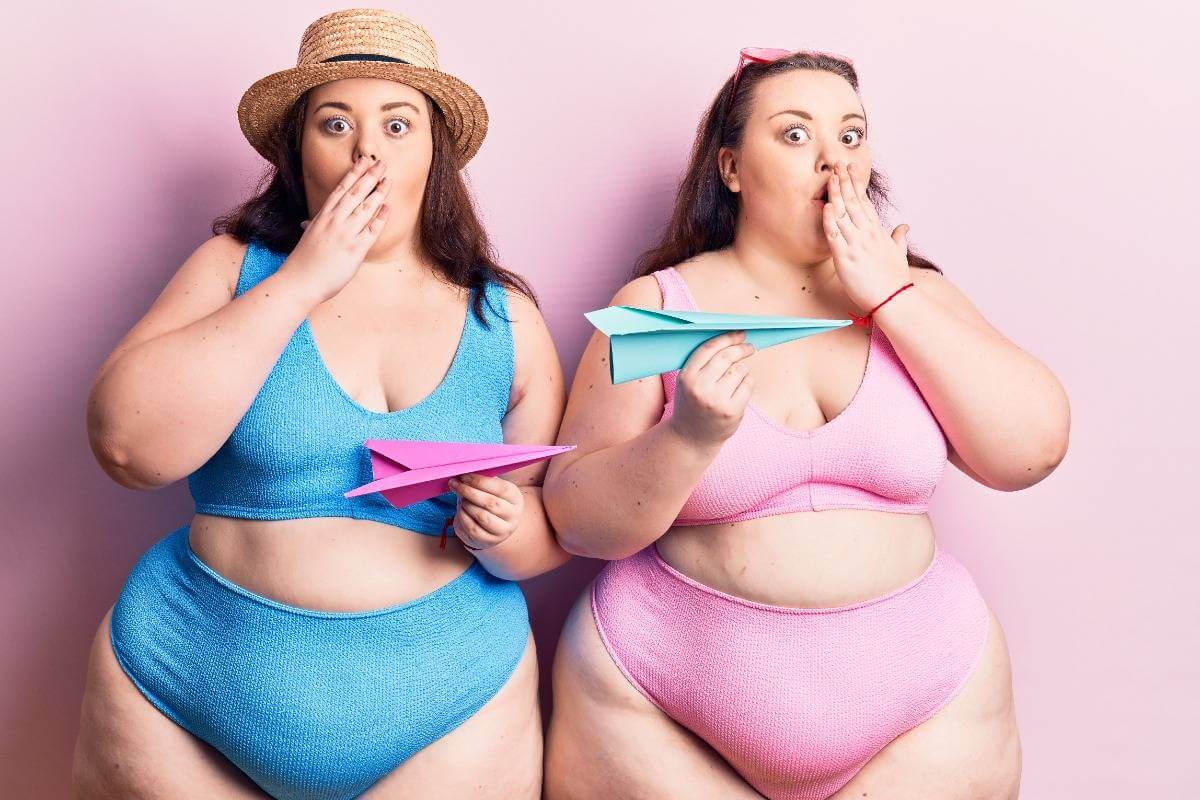 You want to fly, but you wonder if you can fit into an airplane seat. What should you consider if you are worried about being too fat for an airplane seat?
Airplane seat width not calculated for EU size 52
You are about to fly. You know you don't have a lot of space on the plane. Most airlines allow you to book extra legroom. But what if the extra space you want is not in the length but in the width?
The average amount of space you have on a plane has only decreased over the years. The average width of an airplane seat (from the centre of one armrest to the centre of the next) is 43 centimetres. In some cases, such as large intercontinental aircraft, the airplane seat is 46 centimetres wide.
This means that the airplane seat will still fit up to a woman's EU size 40 to 42, but if you're bigger, you're bound to bump into your neighbour. The size you can fit into an airplane seat depends on your physique.
Booking an extra seat with an airline
On average, people are getting bigger and heavier. You are not the only one who cannot squeeze into an airplane seat. How airlines deal with overweight people varies from airline to airline. You can book an extra seat if you need more space than the standard seat. Many airlines offer a discount of around 25% on the extra seat.
The rules that determine when an extra seat is needed vary. Some airlines have no standard rules for people who cannot fit into an airline seat. They only recommend that you book an extra seat, but do not make it compulsory.
Other airlines use the criteria that if the armrest won't go up or down, you won't fit in the seat. Or if the standard seatbelt does not work and you need an extension. Can't fasten your seatbelt? Then you have to book an extra seat.
Want to know the rules of the airline you are flying with? Have a look at the small print or contact your airline in advance.
I can't fit into an airplane seat, what do I do?
The good news is that you don't have to worry about not being able to fly if you can't fit into a seat. In the history of EUclaim, we have never experienced passengers being denied boarding because of their weight or size. There is always a solution. If the plane is not full, you can often get a seat with no one next to you. If not, it will be packed. But they won't leave you standing.
Exceeding the maximum permitted aircraft weight can cause problems
Another disadvantage of being overweight and flying that you may not have immediately thought of is that the capacity of an aircraft is calculated for a certain weight. For safety reasons, you must not exceed the maximum permitted weight. You won't be bothered by this on popular routes. These flights are usually operated by larger aircraft and there is plenty of margin. You will not have to stand on the scales before boarding.
Only your luggage is weighed. The weight of your baggage determines how much you pay in handling charges, but it is not taken into account when calculating the total capacity of the aircraft. An average baggage weight of 17 kg per person is assumed.
Airlines use EASA (European Aviation Safety Agency) calculation models to calculate how many people they are allowed to carry. These take into account an average weight of 88 kg for a man, 70 kg for a woman and 35 kg for a child.

If you choose to fly regional in a small airplane, your weight may be an issue. In 2003, for example, a Beachcraft 1900D crashed in Charlotte, USA, because its passengers were overweight. All 19 passengers and 2 crew members died.
It is only when the expected weight is much higher than the EASA weights, such as military flights with heavy equipment or short-haul flights in small aircraft, that individual weights become important and a passenger scale may still be used.
Double seat, double claim?
Has your flight been delayed or cancelled? You may be entitled to compensation. You can use your flight number to check if you are entitled to compensation.
But what if you had to book a double seat because you don't fit into a standard seat on the plane, or because you just like having more space? That's a grey area. Basically, it is one person, but you have bought two tickets.
Airlines regularly argue that claims for babies cannot be made because the baby does not have its own ticket. EUclaim files several claims for passengers who have booked two seats. After all, there are two tickets. But it remains to be seen whether the courts will award double compensation. In any case, when you file a claim, tell us that you have booked a double seat.
File a claim in case of flight problems
Have you had any problems with your flight? Was there a delay or cancellation, for example? Then check if you are entitled to compensation and submit a claim. EUclaim takes care of the rest.