From what age are children allowed to travel alone? Explainer
Going on a trip with your parents, or is it time to fly solo? Or, if you are a parent reading this, from what age can your children visit family abroad on their own? And what about any help or guidance during the flight?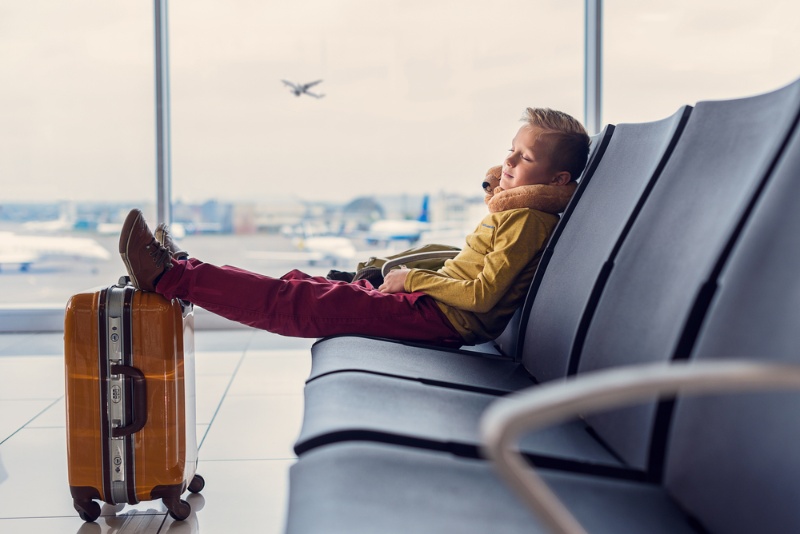 From what age can your child fly alone?
There can be various situations in which it is not convenient or possible for you to accompany your child for a trip. For example, if you are divorced and your ex-partner lives abroad. Or perhaps the grandparents have emigrated and your child wants to spend a school vacation with them. Just going back and forth to accompany your child can cost a lot of time and money. Can and should they travel on their own? What are the rules? What about a chaperone?
The rules for children traveling alone (2023)
Legally, children as young as 12 are allowed to fly alone. But the rules vary per airline. The main difference per airline are:
Age from which your child may fly alone
Unaccompanied minor service
The cost of supervision
We have listed the rules of a number of airlines for you. Useful if you still need to book your flight.
British Airways – between 5 – 12 years old
Children under 14 years old are not allowed to fly alone. They must be accompanied by someone 16 or older.
British Airways offers an unaccompanied minor service for children from 5 to 12 years old which is mandatory for this age group.
Flights within UK and Europe: £35/€40.
Flights to/from Russia/CIS, Middle East, Africa and Saudi Arabia: £70/€80.

Lufthansa – 5 years and up
Children aged between 5 and 11 may only fly unaccompanied if they are using the unaccompanied minor service, or travel with someone 12 years or older.
The service can also be used for passengers between 12 and 17.
Costs vary between €85 and €150.

Transavia - from 5 years old
Children from 5 to 11 years old may only travel with Transavia accompaniment.
Between the ages of 12 and 18, you may also fly your child without additional supervision.
The cost for accompaniment is €55 per child per one-way trip.

Ryanair - not under 16 years of age
Children under the age of 16 are not allowed to fly alone.
Children under 16 are required to be accompanied by someone at least 16 years old.
Ryanair does not offer chaperones.

easyJet - not under 16 years of age
Children under 16 are not allowed to fly alone.
Children under 16 are required to be accompanied by someone over 16.
easyJet does not offer a companion.

TUI - as of 5 years old
TUI has an unaccompanied minor service for children from 5 to 12 years which is mandatory for this age group.
From 12 to 18 years old, children may travel unaccompanied (excluding the Antilles). Chaperones can be booked as an optional extra.
When you book online, a custodian costs €60 per child for a single trip, on all short/medium flights. If you pay at the airport, a chaperone costs €75.
The service costs €120 per child for a single long-haul flight. If you pay at the airport, it's €135 for a single trip.

Emirates - from 5 years old and up
Emirates also offers the Unaccompanied minor service for children 5 to 12 years old.
From 12 to 18 years old, the option can be booked, but it is not mandatory.
Emirates also accompanies children with transfers, if they do not exceed 4 hours for non-Emirates flights and 8 hours for Emirates flights.
The cost is $50 per flight. So if it includes a layover, you will pay $100 per child.

Qatar Airways – starts at 5 years old
Children between 2 and 4 years old must be accompanied by an adult.
Children between the ages of 5 and 15 years old may travel alone with the airline's Unaccompanied Minor service.
Qatar Airways provides dedicated staff to accompany the child throughout the trip. The parent or legal guardian will be required to pay for a return ticket for the airline employee who will be accompanying the child.

KLM - from 5 years old
The unaccompanied minor service is available for children between 5 and 14 years old.
For children between 14 and 18 years old, the unaccompanied minor service is not required. If you decide not to book this service, your child will fly the same way as an adult.
The cost per one-way flight is €100 to €150. If there is a transfer in between, you pay an extra charge of €200 to €300.

Turkish Airlines - from 2 years old and up
Turkish Airlines has different rules than the other airlines.
As early as 2 years old you can let your child fly alone
Between 2 and 7 years, the unaccompanied minor service is mandatory
From 7 years your child may fly unaccompanied.
Turkish Airlines does not charge for the unaccompanied minor service.

What does unaccompanied minor service entail?
The unaccompanied minor service (also called UM) means that your child will be accompanied from the time you drop your child off at check-in until he or she is transferred to the authorized person at destination.
After all paperwork is checked at check-in, your child will be taken to boarding by airline ground staff. At boarding, children are usually allowed to board first and are supported by the cabin crew.
The cabin crew helps your child finding his or her seat and is there for your child if there is anything during the flight. Some services include an additional drink.
When the plane lands, your child will be guided by the local ground staff. They will also make sure the luggage is picked up and they will escort your child to the authorized person.
Your child is flying alone and the flight is delayed
If your child's flight is delayed, the attendant will also make sure that your child passes the time and provides guidance while waiting.
Your child is flying alone on a connecting flight
Is your child flying alone and has a transfer along the way? Most airlines also offer supervision when the time between the two flights is up to 4 hours. The rules concerning this point differ per airline. To be sure, check with the airline before booking a flight with a transfer.
Children's lounges
At several airports there are special children's lounges to pass the time. Some children's lounges are minimalistic, but there are also children's lounges with entire indoor playgrounds, Play Stations and snacks. This depends on the airport.
Checklist
It can be nerve wracking, of course, when your child flies without you. Here's a list of things to keep in mind when flying alone or with the UM service.
Be at the airport at least 2.5 hours before departure (this varies per airline, but be there on time).
As a parent or guardian, wait until the plane has taken off in case the flight is cancelled last-minute.
Make advance arrangements at home for parental consents indicating your permission for your child to fly alone. It must also indicate who will pick up your child.
Copies of passports are required, as are signatures.
Provide identification for your child.
Identification of the person picking up your child from the airport. If this person cannot provide identification or the authorizations are not correct, your child will be put on the next flight home.
Want to use an unaccompanied minor service? Book at least 24 hours in advance.
If your child is accompanied by a teenager and you are not using the unaccompanied minor service, pay attention to the rules per airline. Sometimes a 16-year-old companion is allowed, sometimes the companion must be at least 18.
What if you are a teenager who wants to travel without your parents?
Are you 15 years old and would like to go on vacation or a city trip with friends and without your parents? Then pay attention to where you book your trip! Ryanair and easyJet do not allow you to fly without parents or a companion who is at least 16 years. So find a friend to accompany you if you are the only one under 16.
Are you under 16 and would like to fly without your parents? Always check with the airline first. If you are still nervous about flying alone, many airlines offer the unaccompanied minor service described above.
Conclusion: age restrictions differs from airline to airline
Airlines have different rules. While one airline may not allow passengers under the age of 16 to board unaccompanied, Turkish Airlines allows your child to travel alone at the age of 2.
The cost for this also differs per airline, but is not unreasonably high. Sometimes it's even cheaper to arrange a chaperone, than to book an extra seat!
From the moment you hand over your child to personel, they are taken care of. Some airports have even created special lounges where your child can spend their time, under supervision of course.
Compensation in case of delay or cancellation
Will your child be flying alone soon? Then you simply pay for a seat and, in addition, possibly the cost of supervision. If there is an issue with the flight your child has rights in accordance with Regulation 261/2004. This means you can claim and receive compensation of up to €600 per passenger. In the event of a flight cancellation, you will also be reimbursed for the cost of the unaccompanied minor service.
Compensation for flight problems
Cancelling your flight because you have a cold is not a valid reason for compensation. Are you going to fly anyway, but your flight is cancelled or delayed? You may be entitled to compensation.