London Heathrow's capacity and flight problems
A third runway has been approved for London Heathrow Airport, but this runway will not be operational until 2026. In the meantime, passengers still have to make do with the crowded and tight planned flight schedule that is currently normal at Heathrow Airport.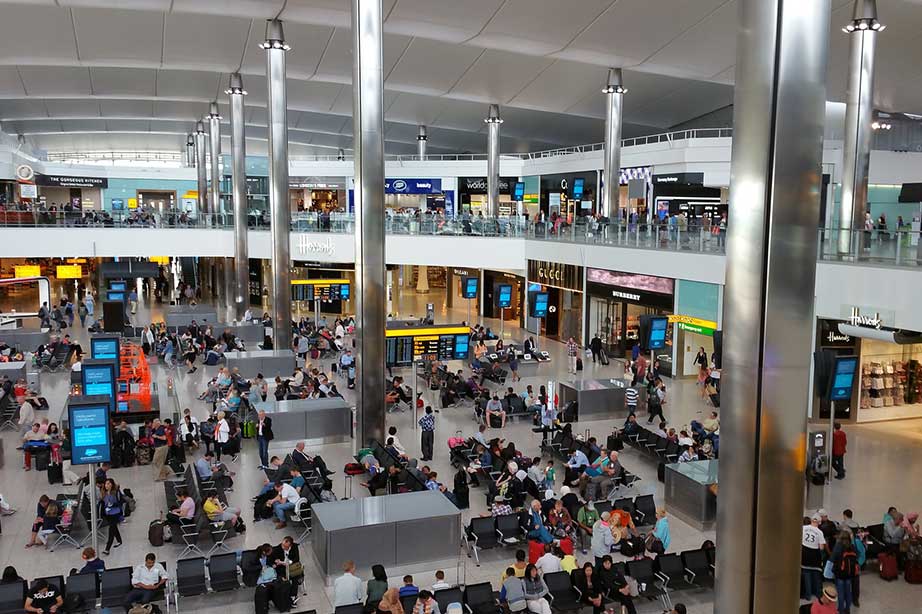 The rise and fall of Heathrow
When commercial aviation took a 'flight', London Heathrow airport developed rapidly and successfully as a connection airport within Europe, connecting cities and countries all over the world with each other. Currently Heathrow Airport facilitates over 80 airlines that fly to 204 flight destinations in 85 countries. In 2017, the airport handled over 77 million passengers through four terminals.
However, the rapid growth of Europe's busiest airport has its downsides since its growth potential is limited. London Heathrow only has two operating runways that have to process almost 1300 flights per day(!), making the airport prone to flight delays- and cancellations due to very tight flight planning.
Heathrow terminals
Heathrow airport currently possesses four terminals to handle its passenger traffic. Terminal 2, the newest terminal, is used for Star Alliance members such as Lufthansa, Austrian Airlines and SAS. Aer Lingus, Icelandair and Flybe also use the terminal.
Terminal 3 is used by the 'jumbojets' such as the A380, the largest passenger plane used by airlines such as Emirates and Qantas. Members of the Oneworld alliance such as American Airlines, Qatar Airways and Cathay Pacific also use the terminal. Virgin Atlantic also uses terminal 3.
Terminal 4 is home to Sky team members such as Garuda Indonesia, KLM and Air France. Also non-aligned airlines use Terminal 4 for their flights along with Etihad Airways and Malaysia Airlines.
Terminal 5 is primarily used by British airways, Iberia and Iberia express.
The consequences of tight flight planning and under capacity
Handling as many flights as Heathrow is, it makes flight performance more vulnerable. More flights are subjected to the vulnerability of bad weather conditions and their 'domino effect' throughout the days' planning. We often have to note that very large and busy airports such as London Heathrow, Frankfurt and Amsterdam Schiphol have to cancel flights to keep the rest of the flights operating as normal when slight weather conditions occur such as fog or snow.
Start-up problems at large airports
Busy airports such as London Heathrow are planned out until the very minute. Making unforeseen circumstances hard to overcome. When planes have to queue for de-icing for example, the airports' operation is largely affected. Sometimes the queues becomes so long that planes have to wait for take-off so long that they have to queue for de-icing again, because of the cold weather conditions, resulting in further and further delays.
Flight delayed at Heathrow airport
If your flight is delayed at Heathrow airport, chances are you are entitled to compensation under Regulation 261/2004. The compensation could add up to €600 per person! EUclaim helps passengers assert their rights and receive what they are entitled to. Check your rights, submit your claim and we will do all the work for you!