On your Bike… Seat, new airline seat patented.
The European aircraft manufacturer, Airbus has lodged a patent application for a new aircraft seat that could add more than 50 passengers aboard a narrow-bodied plane such as the Airbus A319, the mainstay of the EasyJet fleet. While Ryanair may squeeze 10 more people on each of its Boeing jets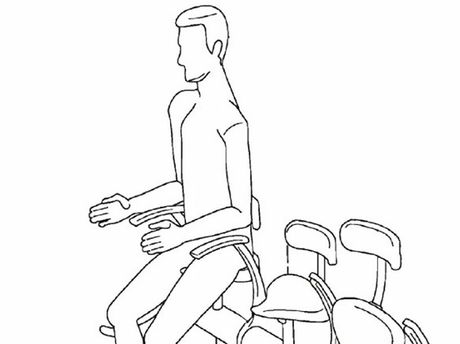 The 'moped-style' seats, designed by inventor Bernard Guering, are fixed to spindles and gives each passenger has a small back-rest - described as "a simple lumbar support held at the end of an arm". Retractable armrests would also be provided. The patent notes "reduced comfort remains tolerable for passengers" on shorter flights.
Guering, inventor of the aeronautical equivalent of Third Class freely admits that "the race is on to squeeze more bums on seats". The generic term for such journeys may become the "Guering Grind".
But even those who stick to terrestrial transport could find themselves afflicted by the drive for greater efficiency. Guering notes: "The invention could perfectly well be used in other transport means in which the aim is to transport a maximum number of passengers, such as coaches."