The five busiest airports in Europe
We have mentioned the smallest and largest airports in the UK before, but what are the busiest airports of Europe? From booming Paris to urban Amsterdam. We listed the top 5 airports for you.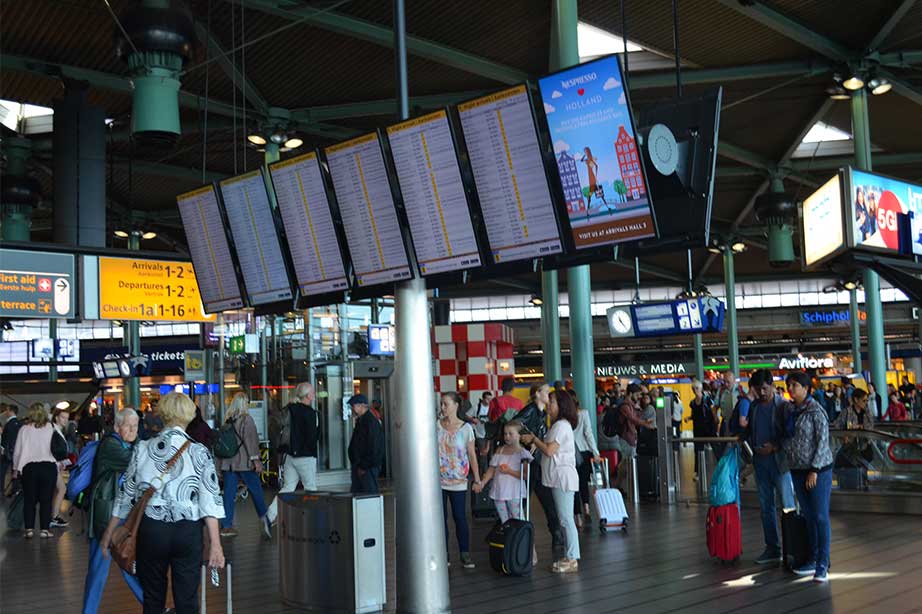 London Heathrow Airport
Approximately 80 airlines will take you to 180 destinations spread across 90 countries from London Heathrow. As Europe's busiest airport, London takes you literally everywhere in the world. With direct flights to each continent, London is the main hub connecting the world to Europe. The airport consists of four terminals and two runways. London Heathrow's third runway has gotten the seal of approval from the government and is set to be finished in 2021. The runway and Heathrow expansion is urgent, as the airport is unable to grow further and operating at full capacity, resulting in operational issues.
Last year, in 2017, 5241 flights were cancelled from and to London Heathrow Airport. 2247 flights suffered a delay of three hours minimum.
Amsterdam Schiphol Airport
 Schiphol is now the second largest airport in Europe, offering the most flight destinations in Europe and connecting passengers in all possible ways. The airport offers 196 European destinations from Amsterdam and 145 intercontinental destinations. Amsterdam Schiphol Airport has also reached its maximum capacity due to the large demand in flights and is expanding its range to Lelystad Airport in the future.
In 2017, 7055 flights from and to Amsterdam Schiphol got cancelled. Another 2444 flights were delayed for three hours or more(!).
Frankfurt International Airport
Almost 100 airlines use Frankfurt International Airport, the largest German airport, for their flights. You are able to travel the world from Frankfurt, offering more than a hundred destinations spread across different continents. Frankfurt International is the third largest European Airport and handles over 70 million passengers each year, spread over two terminals.
5564 flights from and to Frankfurt were cancelled in 2017. 1545 flights were delayed for three hours or more.
Paris Charles de Gaulle Airport
Paris Charles de Gaulle Airport is de largest airport in France and fourth largest airport in Europe. Almost 69 million passengers travelled from or to Paris CDG last year. The airport is part of Paris Airports, along with Paris Orly Airport. Paris CDG is the main hub and home of Air France. Especially flights to Africa and South-America are connected to the Parisian airport.
Paris Charles de Gaulle Airport had to process 3537 cancellations in 2017 as well as 2945 delays of three hours minimum.
Adolfo Suárez Madrid Barajas Airport
The fifth airport in Europe is the airport of Madrid, the home of Spanish national airline, Iberia. Madrid Barajas Airport was renamed Adolfo Suárez Airport, which was the name of the first democratic prime minister of Spain, after his death in 2014. Madrid is the main connection between Europe and South-America.
Madrid Barajas suffered 1736 flight cancellations from and to Madrid in 2017. 1449 flights were delayed for three hours or more.
Was your flights to or from one of these airports delayed for more than three hours? You could be entitled to compensation of up to €600 per person!
[single_button button_text="Check your rights" button_link="/free-flight-check" classes="" align="align_center" button_type="button-action"]