The many faces behind EUclaim: Jeroen
EUclaim is more than a website and we would like to share this with you! The upcoming months we will ask our employees to answer 7 questions, so you will get to know us a little bit better. Today it is Jeroen's turn.
Jeroen is our Application Administrator and is responsible for collecting flight data for our database.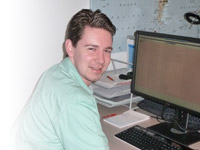 1. What is your role within the EUclaim team?
I have been working as an application administrator with EUclaim since February this year. Using different systems I collect the flight data from all over the world. I also check the data and make any corrections in the data where necessary. In addition I help improve the system that collects the data.
2. Which part of your job do you like the most?
I like looking for new ways to improve our systems. Next to the variety this offers in my work it also stimulates creative thinking. This combination of work is so much fun because it is challenging and really gives a sense of accomplishment once an improvement has been found.
3. Do you still dare to fly yourself?
Yes please. I love to fly. The different stories we hear from clients does not deter me. Watching Aircraft Investigation just before going on a trip does not bother me one bit!
4. What is your favorite airline and why?
Unfortunately I have not been able to fly very much so I cannot really make any judgments in this matter. I have flown with Transavia before and to date have not experienced any problems.
5. Have you ever experienced a flight delay?
Yes, years ago when I was on vacation in Turkey. On the day of the return flight we where scheduled to leave at 8 pm, but had heard that Schiphol airport was closed due to a storm and that our flight was cancelled. Our travel representative kept insisting that we would be departing that night. At around 5 am we were told that the aircraft was still at Schiphol Airport and that we would not be taking off. We were then given the choice to either go to an airport in the neighborhood or to stay at the airport for the evening. We chose the hotel and were scheduled to fly out the next day around five o'clock in the afternoon. This flight was eventually delayed until 2 am. It was definitely an experience but we made it home in one piece.
6. Which aspect within the company is often invisible?
I think that actually two parts are invisible. First, the technical department ensures that all systems are constantly running. Secondly, the work that is done in investigating claims. This all happens behind the scenes and as a client you do not notice it at all.
7. What makes EUclaim unique?
In the short time that I have worked here, I have noticed how much work is done to ensure all systems work in the most optimal way. A lot of time is spent to ensure that the system is as simple as possible for clients to use so that they are not confronted with a complex system. You really get a sense that it really is all about the passengers.