UK airports: smallest to largest
The UK has over 40 commercial airports located in different places across the country. London alone has 5 airports. With so many airports and different locations we show you a list of the smallest and largest commercial airports in the UK, their passenger numbers and an indication of their growth.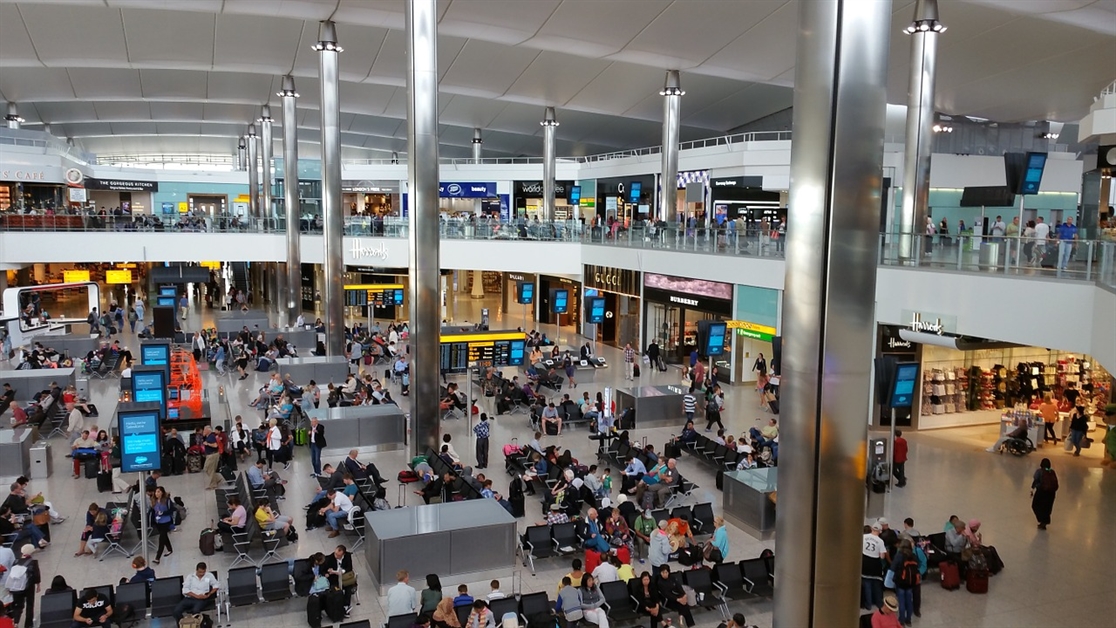 The five smallest UK airports
Small airports have the advantages of shorter queues and speedy security checks, however they also have a few downsides.
Due to their remote locations they are often hard to reach by public transport since there is only a small demand for the airport. There are fewer destinations you can fly to when travelling from a small airport, and most of the time these flights don't operate very frequently. If your flight is delayed and you have to wait for a significant amount of time, there is often only a small café to entertain your needs, so it could get boring waiting for your flight. Sometimes airport services will close while you are still waiting. That too can be frustrating when travelling from a small airport.
Land's End
Land's End airport is located at the furthest tip of the UK. The airline, Isles of Scilly Skybus, offers passengers an almost daily service to St Mary's on the Isles of Scilly. In 2015 the airport handled 54, 169 passengers. The airport has a café. Passenger numbers increased by 21.8% comparing 2014 to 2015.
Alderney
Alderney airport is the only airport located on the island of Alderney. It was the first airport in the Channel Islands. Aurigny Air Services flies to Guernsey and Southampton on a regular basis. The airport has a café and a shop. In 2015 the airport handled over 59, 843 passengers. Passenger numbers decreased by 2.4% between 2014 and 2015.
St. Mary's - Isles of Scilly
St. Mary's airport is the 3rd smallest commercial airport in the UK. In 2015 the airport handled 94, 718 passengers. Isles of Scilly Skybus operates flights to Land's End and Newquay. The airport is closed on weekends. St. Mary's increased its passenger numbers by 4.1% comparing 2014 to 2015.
Stornoway
Stornoway airport is located in the north of Scotland. The airport handled 127, 282 passengers in 2015. FlyBe and Eastern Airways operate the flights to and from Aberdeen, Benbecula, Edinburgh, Glasgow and Inverness. Passenger numbers at Stornoway decreased by 1.7% comparing 2014 to 2015.
Durham Tees Valley
Durham Tees Valley airport is located near Middlesbrough. Flights to Amsterdam, Bristol and Aberdeen are operated from there by KLM, Eastern Airways and BMI Regional. Last year over 140.902 passengers were transported through Durham Tees Valley. Passenger numbers at the airport decreased by 1% in 2015 compared to 2014.
The five biggest UK airports
Four out of the five biggest airports in the UK are London airports. No surprise really as London is one of the major capital cities of the world and its airports handle millions of passengers every year. Travelling from a large UK airport has its advantages and disadvantages.
Larger, busier airports conduct more flights to more destinations more frequently. For passengers this means flexibility, which is a very important travel factor. There are also more facilities at larger airports such as shops, lounges and food courts.
One of the downsides of a larger airport is that they are very busy and this can cause stressful situations. Flight delays are more common at large airports. Long queues for almost everything is also a downside. In addition you have to allow more time to check in for your flight compared to travelling from a smaller UK airport.
London Heathrow
London Heathrow is the biggest airport in the UK. Almost every imaginable destination can be reached from there. In 2015 the airport handled almost 75 million passengers, and the airport is still growing. From 2014 to 2015 passenger numbers grew by 2.2%. From personal shoppers to a luxury spa treatment, almost everything is available at London Heathrow.
London Gatwick
London Gatwick is located south of London. It is the home of many low cost airlines who fly between London and Europe but also to larger airlines that offer flights to and from Las Vegas, Orlando, New York and many more long haul destinations. In 2015 the airport transported over 40 million passengers compared to 38 million the year before.
Manchester
Manchester airport is the 3rd largest UK airport and the only one in the top 5 biggest airports that is not based in London. This airport, based in the north of England, transported over 23 million passengers in 2015 compared to almost 22 million the year before. The airport is known for its variety of holiday flights as well as flights to Beijing, New York, Dubai and many more destinations.
London Stansted
London Stansted is based northeast of London. Mostly low cost European airlines operate flights to and from Stansted airport. In 2015 over 22.5 million passengers were transported through Stansted. The airport grew by 12.8% from 2014 to 2015.
London Luton
London Luton is another London based airport that handles flights to mostly European destinations. Mainly low cost carriers perform flights to and from this airport. In 2015 the airport transported over 12 million passengers compared to almost 10.5 million passengers in 2014. The airport is quite small and is located north of London.
Do you prefer travelling from a small and convenient airport or a large, fully equipped airport?