Where there is food, there are reviews
We've all read the horror stories about meals served by airlines, but is in-flight food really that bad? There are a lot of websites that collect reviews of both happy and disappointed passengers. We took a look at what was said about the five major airlines in Europe and their cuisine.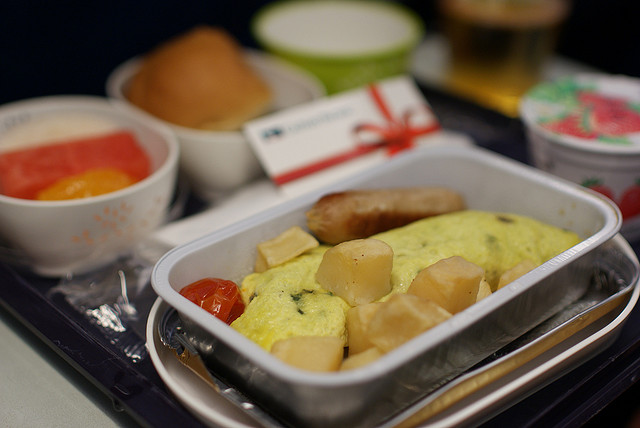 Air France-KLM
The airline service has had varying reviews, partly due to their merge in 2004, which might have gotten reviewers and statistics confused. Some people have mentioned that they "Ate the best airline food ever," while others mentioned it was quite "mediocre, and the meat was tough." There is one thing that all reviewers agree on: the portion sizes are generous and there is enough to drink. The average grade received by Air France-KLM is 7/10. 
British Airways
"To Fly. To Serve." A fitting slogan for the airline that, even on it's shortest routes, serves at least a snack and a drink. Above all they recommend their afternoon tea, as any true British company would. The airline has a fairly good reputation when it comes to food. Their meals of all classes are told to be tasteful, however, there have been some complaints about the special meals served by British Airways. This might be the reason that the average score of the airline's food is a 6/10. Each has his own taste, but do mind that special meals should be ordered well in advance for your best bet.  
EasyJet
There are both good and bad things to be said about the food on board of one of the cheaper airlines. You get what you pay for, and with EasyJet, the food is not included with the price of your ticket. As with everything that you can buy on airports and airplanes, products can be very pricy. Not everyone would be willing to pay €3 just to get a small cup of coffee, tea or water. If you do happen to have a few spare euros on you, the buy-on-board menu offers a wide variation of tasty looking snacks, sandwiches and pastries. Online reviews on various sites leave EasyJet with a grade of 4/10, mostly due too the fact that no food is included with the price of the ticket.
Lufthansa
With an 8/10, the German airline is the highest scoring one out of the five major European airlines. Lufthansa promises her passengers fresh meals containing "clearly identifiable ingredients," which is always  nice. Their portions are said to be small but filling, and there is a wide variety of special meal options on the busiest routes. Some reviews mention that the rolls served can be dry, but nothing a little butter can't fix. As for drinks, Lufthansa's coffee is recommended.
Ryanair
A 2012 research shows that Ryanair is the number one most expensive airline. That is, when it comes to food and beverages available on board. Just like EasyJet, the food isn't included with the ticket price, and just like EasyJet they are graded 4/10. A hot drink will set you back €3,- but the tea and coffee are said to be good. When it comes to the food, the pictures in the inflight magazine don't make it look that tasteful. Reviewers say the sandwiches taste like plastic, and suggest to bring your own. Then again, what is there to complain about when ticket prices currently start at €9,99.     
Photo: Flickr.com