Into the future…and then back to the '80s flying experience
Two weeks ago we took a look into the future and the airports that are set to become hi-tech pleasure domes. This week we thought we'd take you back to the '80s when flying was a very different experience.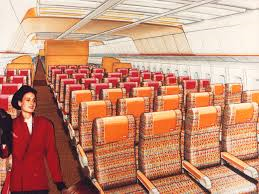 Buying tickets was a whole different ball game, there was no such thing as online purchasing. It meant a trip to the travel agent or the airlines office. There was no virtual ticket back in the '80s, you had a real one which you had to present to airline staff. Once you arrived at the airport it would have been unlikely that you'd have been graced with the sculptures and art that we can enjoy today, we highlighted a few in our blog entitled 'And while you're waiting…at the airport'. But your journey through the airport from check in to the departure gate might just have been a bit quicker as there was less time spent at airport security and fewer opportunities to shop. Of course, if, as we revealed in 'Easyjet uses 'iBeacon' technology to help speed up the airport journey for passengers' the way we navigate our way through airports might just change again! Luggage, duty free bags, straw donkeys…we used to be able take stuff on board the aircraft and lots of it too. All within the price of your air ticket. Now, Brits pay over £1 million a day in excess baggage charges at airports! Take a look at our blog on that subject here. On the plane there was a non-smoking section, yes, you could smoke! And there were meals included. Not haute cuisine mind, but they were edible. Remember our piece 'More Movies, More TV show – Ryanair to test streaming to passengers' phones and tablets' ? Back in the '80s you could only hear music through the inflight radio system unless you took your Walkman on board. And you were treated to one movie, or maybe two on longer flights, all chosen for you by your airline. Now what about flight delay compensation back in 1980, well,  that's another story that begins in 2004!