Corona safety measures at London Heathrow Airport
If your flight departs from London Heathrow Airport it is important to know all about the corona safety measures taken by the airport. EUclaim informs you about face coverings, cleaning standards and social distance.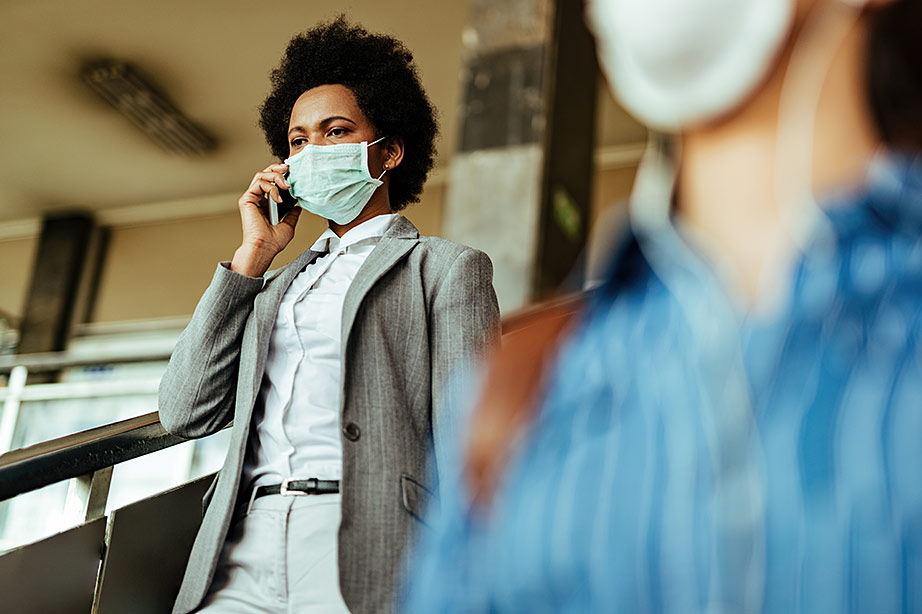 Social distance due to coronavirus
Observe safe distance markers at the airport and boarding gate to obtain enough distance from other passengers. You will find signs and floor stickers to help you keep your distance. In times of the coronavirus it is recommended to keep distance formed by the size of a baggage trolley, to prevent spreading the virus.
Face coverings at London Heathrow Airport
Face coverings are mandatory for all passengers aged 11 or older. There may be times the airport's staff could ask you to lower your face covering for security checks. Face coverings are available at the airport, but please come prepared and bring your own!
Contact is kept to a minimum
London Heathrow Airport has introduced extra measures for a touchless and contactless experience. For example:
At different locations at the airport there are protecting screens. You can find these screens at the check-in and ticket desks and at counters in shops and restaurants.
There are multiple water refill stations located at the airport, so it is a good idea to bring your own reusable bottle.
Every shop and restaurant accepts contactless payment.
From July 1 you can pre-order food online via the Heathrow app.
Most transactions can be carried out on your phone.
High cleaning standards
London Heathrow is doing everything in its power to keep the airport spotless, from common areas to the toilets. Fogging techniques are being used on seats and trollies and the air condition has been modified to eradicate polluted air. Did you know there are currently over 600 hand sanitizer dispensers across the airport? These dispensers are marked on Heathrow's map.
Heathrow's corona test point
Heathrow Airport has opened a corona test point that can check 13,000 travelers per day for corona. The current test point is located in Terminal 2, but another test point will be launched in Terminal 5.
Other advice about travelling in times of corona
A few weeks ago we shared information about things you can do before and during your flight to help keep you and others as safe as possible. Make sure you are well prepared for the airport and for your flight.