How to prepare your flight during the corona crisis?
To prevent the spread of the corona virus (COVID-19) there are different things you can do before and during your flight to help keep you and others as safe as possible. Time to prepare for your travels!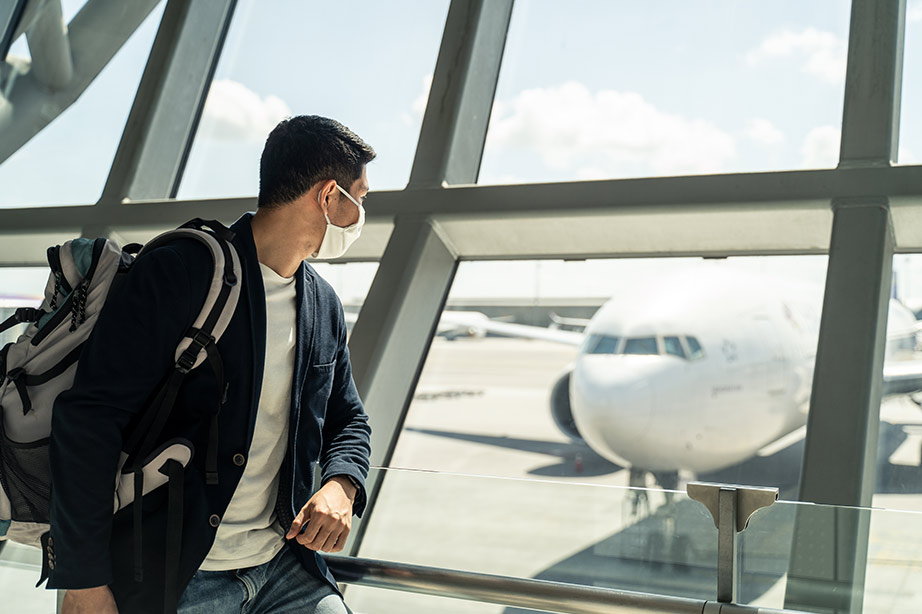 Minimize queues in times of corona crisis
To minimize contact at the airport, it is advised to check in online and download the airlines' app where you can save your boarding pass. If you cannot check in online, use the self-service kiosks and check in your baggage at the Bag Drop area. Make sure you try to avoid as many queues as possible at the airport.
Keep your hand baggage to a minimum
Even though this may prove difficult: try to keep hand baggage to a minimum, making it easier to move at the airport. Pack as light as possible.
Minimize contact and keep your distance due to COVID-19
Observe safe distance markers at the airport and boarding gate to obtain enough distance from other passengers. In times of corona it is recommended to keep distance formed by the size of a baggage trolley, to prevent spreading the disease. Make sure you use the sanitizing stations positioned throughout the airport and next to touchpoints such as check-in kiosks and arrivals desks. Nowadays there are over 600 hand sanitizer dispensers across London Heathrow Airport!
Food and drinks at the airport and on board
Airports and airlines have taken catering measures. Check the possibilities for meals at the website of your airport and airline. For example: from 1 July it is possible to pre-order food online at London Heathrow Airport via the Heathrow app. British Airways changed the inflight food options and service to reduce physical contact with the crew.
Wear facemasks at all times
It is required to wear a facemask at all times in the airport and during the flight. One facemask can be used up to four hours, so make sure you bring enough face masks with you for the duration of your trip. London Heathrow stated that face masks are now mandatory for all employees and passengers aged 11 or older. It may occur that airport staff will ask you to lower your facemask for security checks.
Corona measures on board of your flight
To prevent the spread of the corona virus, try to minimize movement around the cabin as much as possible. Some airlines, such as British Airways, offer you a personal protection pack, containing an antibacterial wipe and hand sanitizer. To keep you safe the airlines thoroughly clean the airplane before departure, including all objects and surfaces touched by passengers and crew. These cleaning measures also apply at airports to keep you safe and healthy.
Corona measures differ per country
Make sure you check which rules apply at your destination shortly before departure. Some countries ask for additional documents. You can find this information with the authorities of your destination and on the IATA website. Be ware: you need a health certificate for some countries when traveling from an area where you are at high risk of infection with the corona virus. The health declaration is a form you can receive via the airline you are flying with.
Quarantine and self-isolation
If you are flying in, or returning to the UK, do not forget that you will need to self-isolate for 14 days after arrival. You can pre-register your arrival? with Border Force.
What other preparations can you make in times of flying during the corona pandemic?
To keep yourself and other safe, there are other preparations you can make to prevent the spread of the corona virus:
Make sure you have a debit or credit card with you, so that you can pay without having any contact at the register.
Wash your hands regularly with soap and water.
Cough and sneeze in your elbow.
Bring hand sanitizer and tissues with you.
Take responsibility: do not travel if you have experience symptoms of corona (COVID-19) within the past seven days or when you still have a high temperature.
Make sure you are informed with the coverage of your travel insurance.
Respect the corona measures at your destination. These differ from the rules in your home country.
If you have any questions, we advise you to contact your airline. They are happy to help you! Safe travels!