Monarch flights cancelled due to insolvency problems
More than 100.000 British passengers are stranded at their holiday destination due to the fact that Monarch has ceased trading and now entered administration. The unexpected collapse of the British holiday carrier has resulted in chaos for holiday makers whom are now stranded across the globe.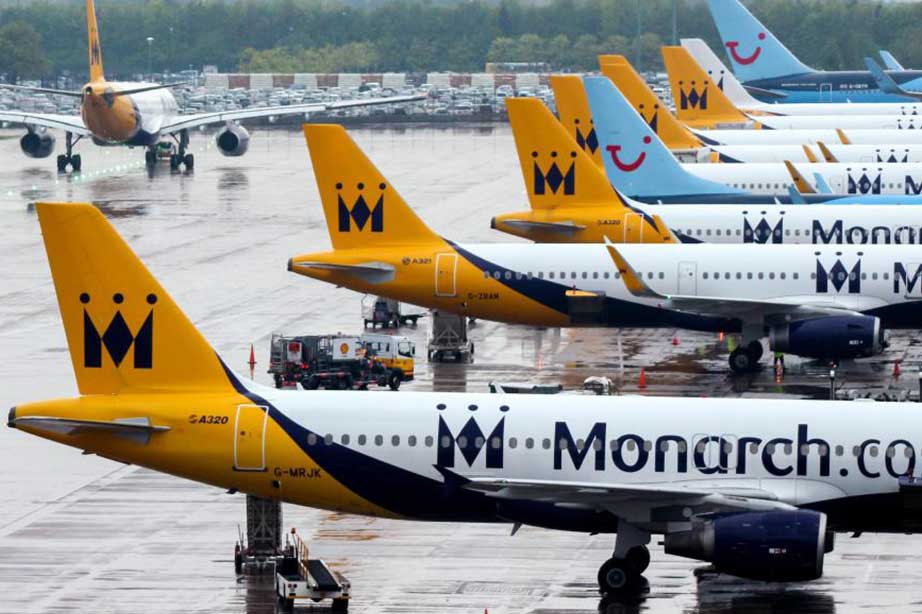 Insolvency problems Monarch result in travel chaos
Monarch airlines has been having problems for a while now, but no one expected the sudden entrance into administration.  Not only were the insolvency problems a surprise for the airlines' passengers, the shock was even bigger when was announced that the airline stopped flying altogether effective immediately. The CAA has announced that they have to charter around 30 planes to bring back British holiday makers from their holiday destinations. All Monarch flights to and from the UK have been cancelled. Passengers that have made bookings with Monarch will only be compensated when it concerns a package holiday. They will be flown home for free and get a full refund for their holiday costs. Flight-only passengers are likely to miss out on compensation altogether, but will also be flown home.
Monarch is not alone in its solvency problems
It has been quite a few months for European airlines that announce bankruptcy or postponement of payment. For example Air Berlin has to deal with insolvency problems. The German authorities had to come up with a large fund to keep flights operating whilst negotiations with Lufthansa among others have commenced regarding a possible takeover. Earlier this year it was Alitalia that dealt with the consequences of insolvency problems.
Current compensation claims with Monarch
All current accounts owned by Monarch are frozen. The situation seems a lot more severe compared to other insolvency cases such as Air Berlin and Alitalia. Monarch immediately stopped its flights and is not communicating with its clients anymore. It is more a question of when the airline files for bankruptcy compared if it will. If you have a claim with us against Monarch we are unfortunately unable to start any legal procedures against the airline at this time. We will keep you updated and if you have any questions in the meantime we invite you contact us via customercare@euclaim.co.uk.
Monarchs' current insolvency issues
In recent events it has become clear that the British holiday carrier Monarch airlines has ceased trading and now entered administration. All accounts are frozen and no flights are being conducted by Monarch anymore. The British CAA has taken over its responsibility in retrieving passengers abroad for now. Current claims against Monarch regarding compensation cannot be paid out by the airline. EUclaim cannot start any legal procedures against Monarch momentarily. We review the situation closely for the time being. If you have any questions regarding the status of your claim we advise you to contact us.