Aircraft parts fall 15,000ft onto small English Village
A Royal Brunei Boeing 777aircraft flying from London Heathrow to Dubai, UAE was forced to return to London after the crew suspected damage to the right engine. The aircraft which is 12 years old was carrying 256 passengers and 12 crew at the time.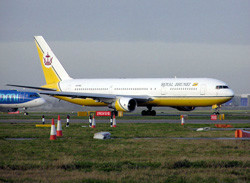 It was revealed by the Air Accident Investigations Branch that the crew noticed a 'loud rumbling noise together with a small amount of vibration and observed an Exhaust Gas Temperature exceedence on the right engine'.

Te report by the AAIB also revealed "This was the fifteenth similar occurrence known to the manufacturer and a number of inspections and modifications were already in place to try to mitigate inner wall damage and potential parts liberation."

The incident occurred on 27th December 2012 when parts of the engine fell 15,000ft onto the small village of Broxbourne in Hertfordshire, England. Nobody either in the village or on the aircraft was hurt during the incident.

The investigation into why the plane became damaged is continuing.