Analysis delays and cancellations in January 2012 and 2013
EUclaim analyzed all delayed and cancelled flights in January 2012 and January 2013 for airports London Heathrow, London Gatwick and Manchester.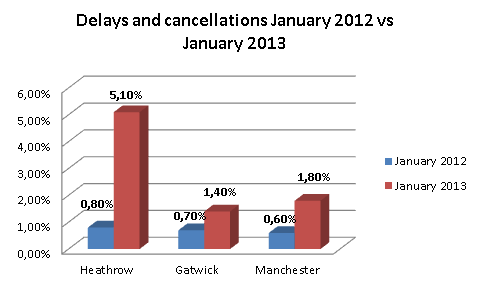 From all flight delays and cancellations at London Heathrow, British Airways scores beneath the average amount of delays and cancellations in January 2012. However, in January 2013, delayed and cancelled flights by British Airways skyrocket and are above the average percentage. Obviously, this is due to bad weather conditions in Central Europe. In addition, London Heathrow performs better in 2012 than in 2013 due to the weather. Heathrow is operating on maximum capacity. Consequently, when the weather is bad, a few delays create a snowball effect and lead to many incidents at this airport. London Gatwick also performs better in 2012 compared to 2013. However, the difference is less significant than in London Heathrow. It is interesting to see that flights from Gatwick to Innsbruck mostly leave on time, but return delayed. Approximately 9% of the flights from Innsbruck to Gatwick are delayed in 2013 and in 2012 this percentage was even higher (15%). The most probable  explanation for this is the weather in Innsbruck. Weather conditions often influence flights arriving in Innsbruck, forcing airlines to divert their planes to other airports. Manchester also suffered from flight delays and cancellations in 2013 due to bad weather conditions. FlyBe is the main operator on this airport. They operate twice as much flights compared to British Airways. Therefore, it is striking that British Airways is the airline with the most cancelled flights in 2013. It is clear that in January 2013 all three airports suffered from more delays and cancellations compared to January 2012. To end on a positive note, Easyjet is performing the best in both 2012 and 2013 at Manchester and London Gatwick. Virgin Airlines and Aer Lingus are the least delayed or cancelled at London Heathrow.