Britain en route to the European Championship 2016
Can you feel the excitement already? Britain prepares itself for the EC 2016 in France and we are on the edge of our seats. It's time to clean out your closet to look for that jersey, stock up on beer and dust off your TV. Unless…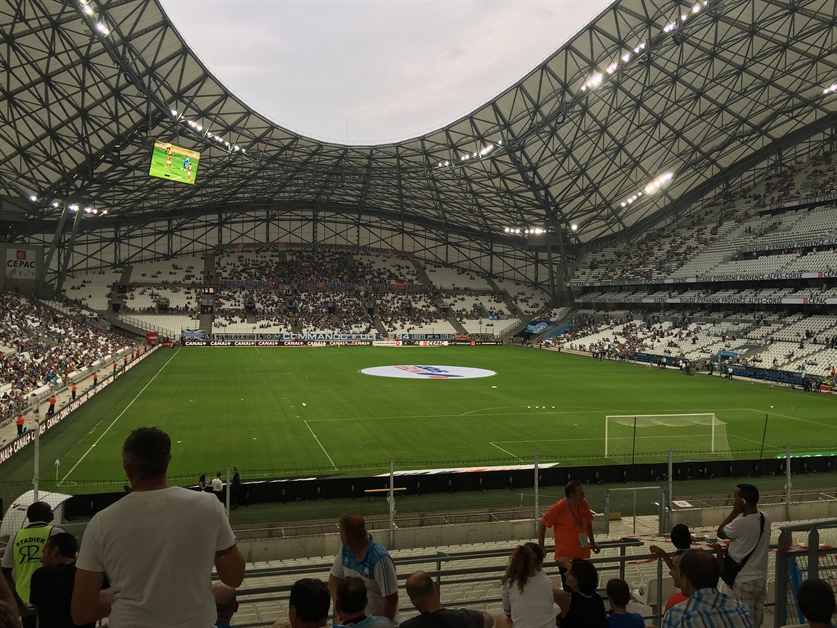 Unless you want to soak up the real atmosphere, excitement and share an unforgettable experience with your friends, live at one of the group stage matches in France. Now what could possibly be better than that? Since the great event takes place across the channel, we have taken it upon ourselves to inform you of some quality travel information that will help you reach the stadium without any hassle.
Bordeaux
Saturday 11 June 2016 18.00 Wales vs. Slovakia
Bordeaux, famously known for its high quality wines is definitely worth a visit. Flying to Bordeaux from the UK you are best of with British Airways. Last year a total of 3 delays were registered on these routes. EasyJet was marked 'worst' with 6 delays on these routes, which is not too bad. Overall, flying to Bordeaux shouldn't be too eventful (leaving the French and their strikes out of the equation). Bordeaux airport is about 6 miles away from the stadium.
Marseille
Saturday 11 June 2016 21.00 England vs. Russia
Thanks to our large database with unique flight and statistic information we have come to the conclusion that flying from the UK to Marseille is most uneventful with EasyJet and Ryanair, considering the amount of delays, cancellations and on time departures. When returning from Marseille to the UK numbers change with British Airways performing best and Ryanair performing worst. EasyJet is still a very safe second option to book your return flight with. The airport of Marseille is located 17 miles from Vélodrome stadium, this takes about 30 minutes by car.
Lens
Thursday 16 June 2016 15.00 England vs. Wales
Planning to fly to the match in Lens? We advise against it. Since there are few direct flights to Lille, the closest airport in the vicinity, it can take up a lot of extra time and money. Instead we advise you to drive and take the ferry from Dover to Calais.
Nice
Sunday 12 June 2016 18.00 Poland vs. Northern Ireland
Travelling to the beautiful city of Nice? We've got some good data for you! Last year over 6845 flights were performed from the UK to this city at the French Riviera, the airline with fewest delays was Jet2. Most delayed on these routes was EasyJet with 13 delays last year. Remarkably flights back from Nice to the UK are delayed more often. You are still best of buying a return ticket with Jet2, experiencing a total of 3 delays last year. EasyJet has a track record of 25 delayed flights on the routes from Nice to the UK last year. Not that staying a little longer in the south of France in June is such a punishment. The stadium of Nice is called Allianz Riviera and is located 3 miles away from the airport and can be reached by public transport.
Lyon - Saint Etienne
Thursday 16 June 2016 Ukraine vs. Northern Ireland
Monday 20 June 2016 21.00 Slovakia vs. England
When travelling to Lyon you are best of flying with British Airways, Thomson or Aer Lingus. Over the last year, there have been no major incidents with these airlines on this route. EasyJet is not the best choice, since it reported 29 delays last year. The stadium of Olympique Lyonnais is located 4 miles from the airport and can easily be reached by taxi.The match in Saint Etienne can be reached most conveniently through the airport of Lyon as well. It takes about an hour to reach Stade Geoffroy-Guichard in Saint Etienne by car.
Toulouse
Monday 20 June 21.00 Russia vs. Wales
Travelling to Toulouse is easy. You can best fly to Toulouse with British Airways and Germania. EasyJet is not the best choice since it had the highest incident rate on these routes last year. The best way to travel home is with Thomson or British Airways. EasyJet has the highest incident rate on these routes and is therefore not highly recommended. Travelling from the airport to the stadium is 8 miles and will take you 20 minutes or less.
Paris
Tuesday 21 June 18.00 Northern Ireland vs. Germany
Paris. The city of love and this summer, football! If you plan to travel to Paris for the EC2016 you can also enjoy a nice shopping spree in one of the leading fashion capitals in the world, visit the cultural sites and experience the magic of Disneyland.
Travelling to Paris is most comfortable by plane. Depending on where in the UK you live, you can fly to Paris-Charles de Gaulle or Paris-Orly. This last airport is often used by budget airlines or for domestic flights. We strongly recommend flying to Paris-Orly if you can. With the lowest incident rate on these routes last year it is your best chance of worry free travel. When you choose Orly, Cityjet has the highest number of delays in 2015: 10 from the UK to Paris and 8 from Paris to the UK. British Airways has the lowest incident rate in both directions. Orly is located 11 miles from Parc des Princes and will take 30 minutes.
When you are bound to travel to Paris-Charles de Gaulle there are more airlines to choose from. Last year 17.338 flights were performed from the UK to this airport, located at 16 miles from the northeast of Paris. Since this is one of the largest and busiest airports of France, let alone Europe, your chances of experiencing delays are higher. Air France and EasyJet are the airlines with the highest number of incidents on these routes while British Airways and Flybe performed best in 2015. Paris-Charles de Gaulle is located 24 miles from the stadium and will take around 40 minutes to get there by car.
We wish the UK teams the best of luck at the EC 2016! If you do experience problems with your flight, like a delay or cancellation, we are here to help.
Photo: Flickr.com