Buddy the Bengal slow loris flies speedily with BA to the UK hoping to meet Doris!
A vulnerable primate has been flown more than 5,000 miles from the Maldives to start a new life in the UK.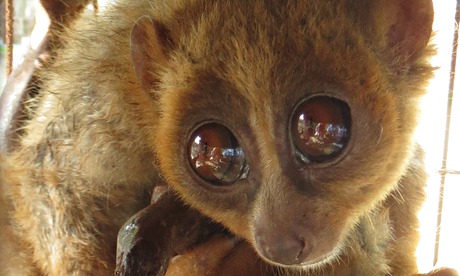 'Buddy' a Bengal slow loris, had been living in the capital Male after police officers confiscated the primate during a drugs raid. The nocturnal creature who is no larger than a bag of sugar was cared for by the officers for eight months while the search was on for a new home.
Buddy's plight came to the attention of Alison Cronin, who runs the Ape Rescue Centre at Monkey World in Dorset, and she embarked on a complex mission to rehouse the primate in the south-west of England.
With other countries unable to help transport the animal, which is one of only a few thousand in existence, she brought the case to the attention of the British authorities and requested permission for it to be brought to the UK.
British Airways captain Will Rennie, who flew the animal from Male to Gatwick airport, said: "Travelling at more than 500mph with us, our special little guest was for once not such a slow loris!"
'Buddy' will spend the next four months in quarantine at Monkey World. It is then expected to begin a new life at the Shaldon Wildlife Trust in Devon, with a new friend, a slow loris called Doris, who has been without a companion since she arrived in the UK 15 years ago.
Read the story in full here: http://www.theguardian.com/environment/2014/aug/18/monkey-slow-loris-dorset
© picture: British Airways/PA