Could the BA 'happiness blanket' change it all for overnight flights? Or will Slow TV make the difference to stress free travel?
British Airways has come up with an interesting new way to see if its passengers are content during a flight – it's the 'happiness blanket' and it measures a person's brainwaves to reveal how relaxed they are.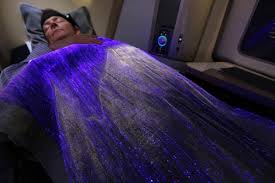 The hi-tech cover uses neuro-sensors to assess happiness levels and fibre optics woven into the fabric change colour from red to blue to show when a passenger is at their most relaxed.
This new technology is currently being tested by BA to check out the sleep and relaxation patterns of its passengers at 30,000ft. The results will be used to improve aspects of the airlines service from when and what food to serve to the type of films to show. You can watch the 'happiness blanket' in action here.
Any questions? We are ready to help you!
You cannot reach us by phone at the moment
Was het eigenlijk de bedoeling om naar Miss Casey te gaan? Dat kan kloppen. Miss Casey is tegenwoordig onderdeel van EUclaim.
Alle informatie over uw rechten bij problemen rondom uw vlucht of bagage kunt u vinden op EUclaim.nl
Bent u een bestaande klant van Miss Casey, dan kunt u gewoon inloggen met de gegevens die bij u bekend zijn.
Vragen over uw claim bij Miss Casey? Neem dan gerust contact op met onze customer care via 088-0066466 of
customercare@euclaim.nl
Sorry, wij bieden geen ondersteuning voor Internet Explorer