Female pilot has the perfect response to passenger's insulting note
A female pilot from the Canadian airline Westjet received a very unpleasant note from one of her male passengers. He left it on his seat after getting of the plane after he discovered the captain was a woman.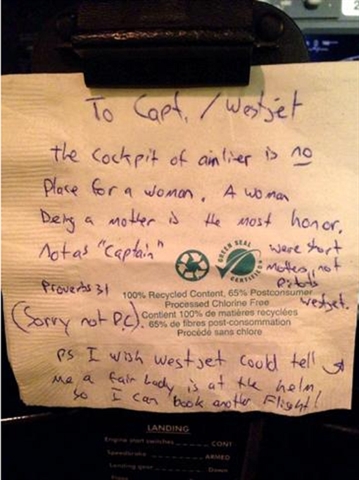 A passenger named 'David' left the following message to her, written on a napkin and placed on his seat:
To Capt./ WestJet: The cockpit of an airline is no place for a woman. A woman being a mother is the most honor, not as "captain." We're short mothers, not pilots, WestJet. P.S. I wish WestJet could tell me a fair lady is at the helm so I can book another flight!
The female pilot responded to this offensive note through Facebook by posting:

"I respectfully disagree with your opinion that the 'cockpit,' (we now call it the flight deck as no cocks are required), is no place for a lady. In fact, there are no places that are not for ladies anymore," However, she said the passenger was right about one part: "I have two beautiful children, it is the highest honor."
Her answer caused a lot of positive response on Twitter. Great response by this female pilot!

source: News.com.au