Flight cancellation today
Here's what you need to know
Has your flight been canceled today? That can be incredibly annoying. Hopefully, you found out about this on time and not right at the airport. In this article, we will explain step by step what your rights are. Did you know, for example, that you can get up to 600 euros as compensation for your time?
Flight cancellation today? Your rights are protected by Europe
As a passenger within the European Union, you are protected by EU Regulation 261/2004, which grants specific rights to air travelers in case of flight disruptions, including cancellations and delays.
Off course, it is regulation from the EU. So you either have to fly from Europe, or to the EU with an European airline.
According to this regulation, you may be entitled to compensation if your flight is cancelled less than 14 days before the scheduled departure. Your flight has been canceled today, so that falls within the timeframe of 14 days, of course.
Replacement flight or refund if cancelled flight happened today
If your flight is canceled today, it doesn't mean your plans are completely ruined. The airline is obligated to provide you with options for a replacement flight. If you accept the offered alternative but arrive earlier or later than planned, you have the right to compensation.
Alternatively, you can choose to decline the alternative flight, in which case the airline must refund the cost of your tickets.
If you prefer, you can take matters into your own hands and book an alternative flight yourself. The airline is then responsible for reimbursing your original ticket expenses and covering any additional costs. Remember, if your new flight arrives significantly earlier or later, you are still eligible for compensation.
According to EU Regulation 261/2004, the airline should take care of you if possible. This means you have the right to be compensated for food, drinks, and even a potential hotel stay. However, the airline might not provide an immediate reimbursement, so it's crucial to keep all your receipts as proof.
Who should be held accountable for the flight cancellation of today?
Airlines are obliged to provide you with a valid reason for the cancellation, and it can fall into two categories: extraordinary circumstances or non-extraordinary circumstances.
Extraordinary circumstances refer to events beyond the airline's control, such as severe weather conditions or air traffic control strikes, where compensation might not be applicable.
On the other hand, non-extraordinary circumstances, including technical faults or staff shortages, make you eligible for compensation. Want to know more about your cancelled flight today? Check your flight for free below.
Once you have confirmed that your flight has been cancelled by using our free flight check, we will take care of your compensation.
Right to compensation if flight is cancelled today
Let's review the steps to compensation:
Your cancelled flight was supposed to depart from an EU-airport, or your cancelled flight with a European carrier was supposed to arrive in Europe.
The airline provided you with a replacement flight, or refunded your ticket.
The flight cancellation of today didn't occur due to extraordinary circumstances.
The amount you are entitled to receive depends on the distance of your journey. The image below provides a rough overview of what you are entitled to.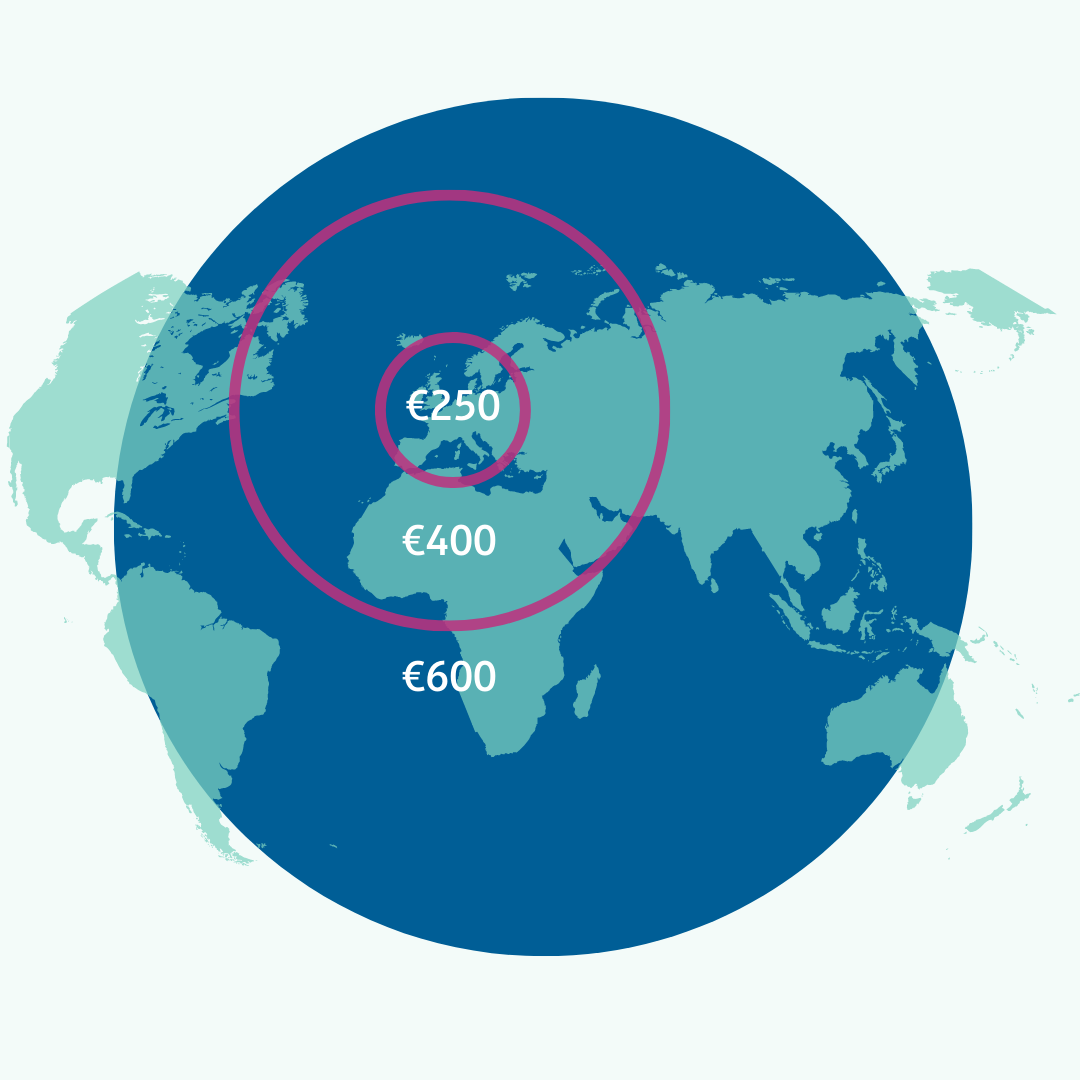 Depending on the distance of your flight, you have specific entitlements for compensation. For flights covering a distance of up to 1,500 km, you are eligible to claim up to €250. If your flight falls within the range of 1,500 km to 3,500 km, you can claim up to €400.
For flights that exceed 3,500 km , you have the right to claim up to €600 in compensation. These guidelines ensure that you receive appropriate compensation based on the distance traveled.
Claim up to 600 euro today for your flight cancellation
Navigating the claims process alone can be time-consuming and overwhelming. This is where EUclaim comes in. We work on a no cure no pay base, this means there is no financial risk involved for you.
Use our free flight check below and share your flight details. You might be eligible for compensation!