Iberia lets passengers down on purpose
EUclaim researched missed connections with Spanish airline Iberia. EUclaim investigated the route Tenerife-Madrid-Amsterdam with flight numbers IB 977 and IB 3244. The period of investigation is 1 January 2012 until 31 August 2012. After August, it was not possible to buy tickets for these particular flights anymore. The outcome of our research is remarkable, as the minimum connection time between two flights was exceeded in 72% of the journeys.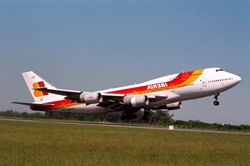 Of the 233 researched situations, the minimum connection time of 55 minutes was exceeded 169 times.  The minimum connection time is set by the airport. Iberia offers tickets to passengers without any margins in time. This means the passenger has exactly 55 minutes to catch the next flight. As soon as the first flight has a slight delay, it is possible for the passenger to miss the connecting flight. Meanwhile, Iberia stopped operating flights to the Netherlands. Tip for passengers: pay attention to the connection time when booking your flights!