Passengers on Airbus Suing for Distress
Passengers on-board an British Airways Airbus, which was forced into making an emergency landing at Heathrow Airport are suing the manufacturer for 'emotional distress'.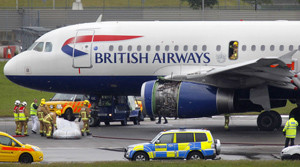 The Airbus was forced to make the mayday call on 24th May 2013 when the engine caught fire and according to reports, witnesses saw a plane with the engine on fire flying low over London.

There were 75 passengers on BA flight 762 from London Heathrow to Oslo when it emerged that the cowl doors had not been properly secured during the final safety checks before departure. Ten of the 75 passengers on the flight are seeking legal action, with many of the remaining 65 passengers also expected to sue.
British Airways initially blamed the incident on a bird strike; however a report later emerged laid the blame on human error. The emergency landing left thousands of passengers delayed and the cancellation of 194 BA flights.
It is believed that insurers have set aside £16.49 million to compensate passengers on the flight and to repair the aircraft itself.
One passenger who witnessed the incident, Alexandra Townsley, said: "It was absolutely terrifying; my sister and I had a clear view of the engine fire. I remember thinking to myself that I was going to die. I am angry to now discover that this had occurred so many times before and the airlines and manufacturers do not appear to have done anything about it.
"It was horrible, I was right next to the engine when it caught alight. It was bad enough when I saw the cowl fly off and hit the side of the plane.
"I was flying with my younger sister and trying to comfort here. We could see liquid and vapour streaming from the engine before it set alight as we landed."
Coby Benson, Technical Legal Manager at Bott Aviation, commenting on the case said: "If you were unfortunate enough to be on this flight then we advise you to get in touch with a solicitor to see if you're entitled to compensation, this applies even if you weren't physically injured. The incident caused extreme disruption to thousands of passengers and the law also entitled those whose flights were cancelled to compensation of up to €600, for the inconvenience caused to them. Again, we would encourage those passengers to get in touch with a solicitor to see if they too are entitled to compensation."