Pilot orders pizza to be delivered on board for delayed passengers
A pilot from US airline Frontier placated delayed passengers with a take away Domino's pizza on Monday evening after hours of delays.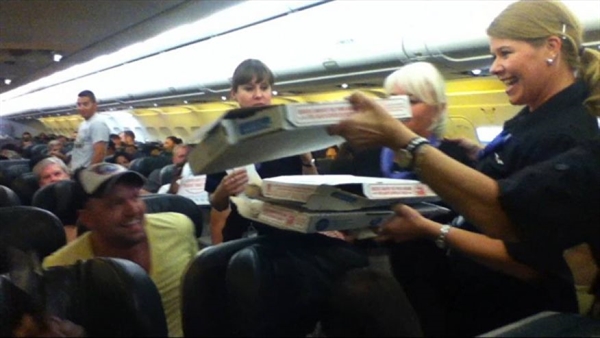 The passengers on Frontier Airlines Flight 719 left Ronald Reagan Washington National Airport, bound for Denver one hour behind schedule at around 7:40 p.m. Eastern Time on Monday. But bad weather in the Denver area forced the plane to circle over western Nebraska before low fuel levels forced it to land at Cheyenne Regional Airport in south eastern Wyoming.
At that point, the heroic pilot took charge and announced 'Ladies and gentleman, Frontier Airlines is known for being one of the cheapest airlines in the US, but your captain is not cheap, I just ordered pizza for the entire plane.'
35 pizzas were made and delivered in less than an hour and Flight 719 left Cheyenne at approximately 10:30 p.m. local time. It arrived at Denver International Airport just after midnight, nearly five hours after its scheduled landing.

Read the full story here.