Ryanair passenger protected by Dutch Court
A Ryanair flight from Mallorca to Brussels on 26 July 2010 was delayed. A passenger decided to start a legal procedure through the Small Claims Court in Middelburg and won the case. Ryanair, however, decided to file for appeal, but lost the case for a second time.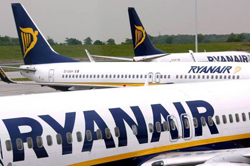 Ryanair states that the passenger should not have filed the claim with the Small Claims Court in Middelburg, but should have started the procedure in Ireland. The Court does not agree with this and states that Ryanair deliberately tries to sabotage the procedure. The passenger wrote a letter to the Court, explaining why he cannot attend the planned hearing. He is not able to pay for the legal costs that are involved when  hiring a solicitor. Usually, when one of the parties does not attend a hearing, the party that did show up will win the case. However, the Court decided differently in this situation! The Court clearly is of the opinion that consumer interests are very important. The aim of the Small Claims Court is for consumers to have easy access to starting a legal procedure. Therefore, the Court judged in favor of the passenger once more.