Strike causes Iberia to cancel flights
Spanish airline Iberia cancels many flights after workers decided to protest over job and pay cuts. Workers gathered outside one of the terminals at Madrid Barajas airport to protest. The strike affects about 40,000 passengers as Iberia cancelled hundreds of flights for this week.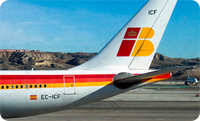 Iberia plans to cut salaries and will discharge 3800 employees. Iberia workers have already planned another round of strikes in the third week of March. According to the airline, all passengers have been taken care of and are booked onto other flights or their ticket costs were reimbursed.