Surinam Airways starts with delay after maintenance
Surinam Airways has one airplane to fly their intercontinental flights. This airplane was grounded for maintenance since the beginning of February. How ironic is it, that the airplane that operated its first flight again after maintenance, was delayed 9 hours!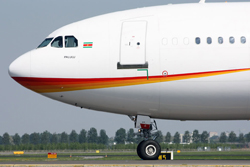 Initially, the airline solved the situation pretty well, by hiring other airplanes to transport passengers. The last few weeks flight PY 993 from Amsterdam to Paramaribo almost never delayed because of the problem with their aircraft. The flight was cancelled a few times, but the inconvenience for passengers was limited. The passengers were even surprised with the fact that they got to travel with a more impressive and new airplane. As Surinam Airways only possesses one airplane for long distances flights, there is a chance that yesterday's delay will cause more disruptions in Surinam Airways' flight schedules the upcoming days.