The early plane catches the worm!
All International and some domestic flights at Nepal's only international airport, Tribhuvan International Airport (TIA) in Kathmandu have been delayed recently due to a huge number of earthworms on the runway.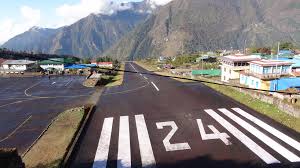 "We are facing trouble after a huge number of earthworms appeared on the runway," Rishikesh Sharma, TIA general manager, said adding that even the use of chemicals to drive away the earthworms from the runway did not work.

The problem usually occurs when there has been heavy rain in the night and a sunny morning the following day, resulting in thousands of earthworms covering the runway.  Only when the runway was cleared did TIA permit airlines to operate, delaying most flights by at least one hour.

A similar problem surfaced in July 2010 and the TIA had to carry out a huge clean-up campaign to remove the earthworms from the runway as officials fear that the presence of earthworms increases the risk of accidents as they attract birds. Several planes had in the past suffered bird hits due to this.
For the full story head to: http://www.ndtv.com/article/offbeat/earthworms-delay-flights-at-kathmandu-airport-560343