The many faces behind EUclaim: Paul
EUclaim is more than a website and we would like to share this with you! The upcoming months we will ask our employees to answer 7 questions, so you will get to know us a little bit better. Paul will be introduced today. He is our Flight Intelligence Officer.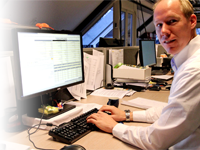 1. What is your role within the EUclaim team?
At EUclaim I am responsible for flight intelligence. You could say I am the "flight nerd" of the company. Before I came to work with EUclaim I had a job in the aviation sector, so I know a lot about the industry and airlines. My role within the company is to broaden aviation knowledge. I help our technical department with obtaining correct data, I advise the claimdesk by analyzing flights and I support the legal department during legal procedures. I am working closely together with all departments and that suits me well.
2. Which part of your job do you like the most?
I like to work together with our legal team to represent our clients in Court. With the legal knowhow of our solicitors and my airline/aviation knowledge we form a great team.
3. Do you still dare to fly yourself?
Of course! I step into an airplane with a smile on my face, but the smile doesn't always last…
4. What is your favorite airline and why?
I flew a lot and have many positive memories with Asian airlines like Malaysia Airlines and Vietnam Airlines. But…British Airways stole my heart because they serve the Dutch beer brand Grolsch on board!
5. Have you ever experienced a flight delay?
Yes, but they were always less than 3 hours. I had the nickname "the King of Transfer" once. This because I like the rush of a tight connection time between two flights. My personal record is an actual transfer time from one airplane to the next within 37 minutes at the airport of Munich.
6. Which aspect within the company is often invisible?
The efforts and multitasking of our claimdesk department. They handle chats, telephone calls, emails and also do administrative work and analyze all claims all at once.
7. What makes EUclaim unique?
Our clients only pay for our services when we have succeeded. When we do not succeed we will not earn a anything. This is a great motivation to continually try to better ourselves and be on top of things. If you compare this to buying a ticket from an airline you will get a whole different situation. They have your money for about half a year and you have no guarantees that the service you bought will actually be provided.