The many faces behind EUclaim: Rosella
EUclaim is more than a website and we would like to share this with you! The upcoming months we will ask our employees to answer 7 questions, so you will get to know us a little bit better. Today it i's Rosella'`s turn. She is our claimdesk manager.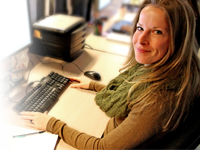 1. What is your role within the EUclaim team?
I am manager of the claimdesk. I have been working for EUclaim since 2008 and enjoy my job a lot. I've grown a lot during the years and gained so much knowledge. Besides checking claims and communicating with our clients and airlines, I am also working on the optimization of our system. This way we try to process claims more efficiently every day.

2. Which part of your job do you like the most?
I love the variation of my job. At one moment I am checking a claim and a few moments later I am working with our technical department to make our website more user-friendly. It's also a great feeling to handle a particular difficult case and be able to solve it in the end.

3. Do you still dare to fly yourself?
Sure! Although all our clients' stories do cross my mind when I'm in an airplane.

4. What is your favorite airline and why?
I do not have a preference. Every airline has delays sometimes and every airline handles them differently.

5. Have you ever experienced a flight delay?
No, fortunately not.

6. Which aspect within the company is often invisible?
The activities of our technical department. Our whole system and database is developed in-house. The technical department influences all different processes within the company.

7. What makes EUclaim unique?
We think back to the old days a lot, when there was so much uncertainty about passenger rights. We have come a long way since then. I am part of a proud team and am glad to be part of all the (positive) changes concerning passenger rights. This makes my job and EUclaim unique!