Tips for traveling during the holidays
It's the time of the year, that time to visit your family for the holidays. Many passengers will travel by airplane to get home on time for Christmas. Delayed or cancelled flights are never fun, but it gets even more horrible when you want to spend the holidays with your family or friends and you are stuck at the airport.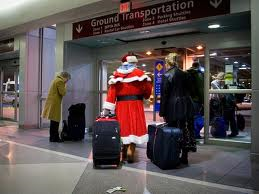 Nobody can prevent flight delays from happening, but you can leave home prepared! We've selected a few tips for you: The weather is a factor that we cannot control, but we can of course try to anticipate on the weather forecasts. Especially the journey from home to the airport should be something you plan ahead. Leave early when the weather is wintery. Slippery roads or pouring rain can cause traffic jams and delay your trip to the airport. Also, trains can be cancelled or delayed because of snow or freezing temperatures. This can all cause you to be late for check in or even miss your flight. So leave home early! When you book several flights to get home, please pay attention to the transfer time between two flights. Sometimes we see routes where passengers only have 45 minutes to catch their connecting flight on a large airport. When your first flight is delayed for about 10 minutes, this already will cause you to miss your second flight. In order to prevent a very stressful situation it is smart to take a look at the transfer times before actually booking your flights. Beware that during the holiday season, many desks or departments are closed. It is wise to check opening hours and telephone numbers that you can reach when running into trouble with your flight. Make sure you put your telephone or tablet rechargers in your hand luggage. When your flight is delayed you will at least be able to recharge your phone and can call your family to let them know you are late. Also, it will come in handy when you have to be rerouted on another flight in case of a flight cancellation. When you go on an actual vacation for the holidays, people mostly think that there will be fun things to do in the city during their time there. However, this is often not true. Going out for dinner on Christmas eve will be a challenge when you have not made reservations. A museum visit, shopping or going to the theater will also probably not be possible. Again, check the opening hours from the tourist activities you want to go to. We would like to wish you all (besides happy holidays) a stress-less flight.