Toilet Malfunction Forces Flight to Return
A toilet malfunction on Thomson flight BY-126 from Manchester, UK to Orlando, United States, forced the aircraft to turn around, not long after taking off from Manchester Airport on Friday.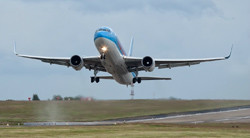 The flight turned approximately 400nm west of Shannon, Ireland, circling for several hours  in order to burn off fuel before returning to Manchester Airport at approximately 15:20PM BST. The plane, which has the capacity to carry up to 288 passengers originally took off from Manchester at 12:10PM UK time and was due to arrive in Orlando at 15:10 PM local time, however due to the toilet malfunction, a rescheduled flight finally departed from Manchester at 20:47PM. According to aviation website, AVherald, passengers reported that all but 2 lavatories malfunctioned obviously as result of an electrical problem. However, Thomson airlines said the aircraft returned as a precaution after suffering a technical problem. The passengers disembarked and boarded another aircraft to Orlando.