Top tips for travelling with children
If this half terms travel experience has damped your enthusiasm for jetting off with your children this summer, think again. Whether you have teens or toddlers with a little planning and patience things don't have to reach fever pitch before you even arrive at your destination.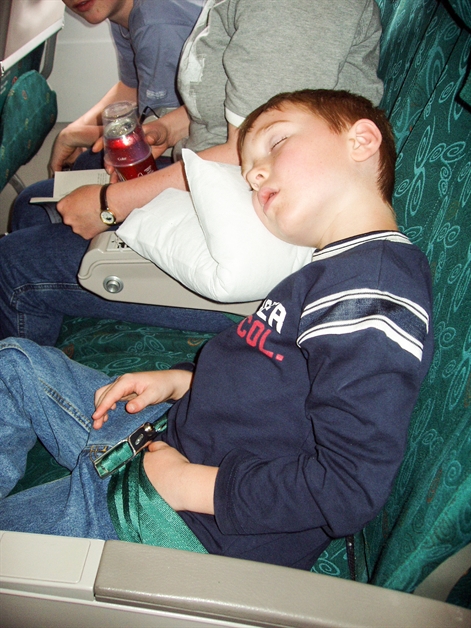 Travelling with toddlers
The best tip for travelling with toddlers is be prepared. Be prepared that everything will take longer, be prepared that they will be hungry when everything is closed and that they will be bored within 10 minutes of 'just sit still'. So give yourself lots of extra time, toddlers are notoriously nosey and will want to stop and look at everything! Not ideal when your rushing to a gate miles away. Make life easier by booking as much as possible in advance. Now is not the time for spontaneity. Tired, bored or hungry children + no bed, food or activity = very unhappy parents.
Keep them entertained
Toddlers and small children won't sit down or sit still and they don't like the people watching for hours on end that most adults do when travelling. Pack a small bag of toys, some new and dish them out every hour or so. 'Etcha sketch' type drawing with the 'pen' attached is always a good idea so you're not frantically looking for pens and crayons down the back of seats. A robust camera works well with even small children and gives interesting and sometime surprisingly good results. Sticker books are a god send and are available in a wealth of topics. And last but certainly not least is an electronic device loaded with apps, games and films. But don't forget to pack the charger and adapter plug.
Keep them comfortable
A comfortable child is one that is less likely to tantrum. Be prepared for the climate and kit them out appropriately. Airports and flights mean lots of layers and comfortable clothes and shoes preferably in dark clothes that hide spills. Save the fashion show for when you arrive.
Take plenty of drinks and snacks, within the hand luggage regulations of course, and avoid sweets. Children high on a sugar rush whilst travelling is not a good combination.
Take lots of nappies, wipes, nappy bags and a change of clothes. Travelling is not the best time for potty training, potties and bags of soiled clothes are the last things you need to be lugging around, but if your child is still having regular accidents it may be a good idea to use a Pull-up 'nappy' for the duration of the journey.
Don't forget the child's comfort toy/blanket. In fact, if you can, buy another one in case it gets lost…..usually just as the gate closes. Be warned!
Keep them safe
Toddlers are notorious for two things; wondering off and not liking containment ie reins both of which help to turn holidays into hell. There are various options on the market to keep them with you and save, from a backpack with a lead to child locator type watches and bands. If you have neither of these, labelling your child with your name and mobile number can be effective, either attached to clothing or even written in biro on their arm.
Toddlers always manage to get grubby so antibacterial wipes and hand sanitizers go a long way to protect them against germs and travel grime, hopefully stopping them from picking up a bug before you even get there. That said, it is always wise to pack some standard medicines such as Calpol as well as other basic first aid kit tools such as antiseptic wipes, plasters, sting treatment, and a thermometer.
But what about older children?
Things definitely get easier as they get older but don't rest on your laurels just yet. Most of the above tips can be applied to older children too, but here's a few more just in case
Don't let the children pack their own rucksacks. You may feel that they are capable of this and it's one less things for you to do. But do check and edit heavily before departing the house as lots of them find a sudden attachment to a collection of useless but very heavy items.
Do make sure that they have their 'comforter' whatever that maybe as tired children quickly regress in age and the teddy that they refused to carry that morning suddenly becomes a necessity.
For teens, check that every gadget has a charger and that any roaming feature etc has been switched off.
Even if nappies are distant memory, baby/hand/antibac wipes are a useful weapon in your arsenal for cleaning spills, toilet seats, restaurant tables…you name it….
Engagement
Games can work well with slightly older children looking for some adult attention, from travel versions of the classics to various word association and eye spy type games.
Encourage them to keep a travel journal and document their journey, taking pictures to be added later or maybe purchasing postcards as they go along. An age appropriate book on your destination with activities and stickers can also help to keep them engaged.
And lastly check your children's passports. They only last 5 years and have a habit of running out before you know it.
Photo: Flickr.com