Travel Destination: Dublin
Here at EUclaim we see many flight-destinations we file claims for. We thought it would be nice to show you around at a few destinations we have made claims for. This time we would like to take you to Dublin.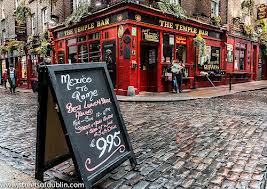 Want to spend a few days abroad as a surprise weekend? Maybe Dublin is an idea. A weekend Dublin does not have to be expensive. A round trip from London to Dublin is about 100 GBP. You do not even need to book this half a year in advance. Of course these ticket prizes will not be found in the last week to Christmas, because that's the most busy travelling period. To find a nice hotel or Bed & Breakfast would not have to be to expensive either.
Enough said about the money, why is Dublin so attractive to visit?

We give you a few tips:
Historical inner city with ancient buildings and beautiful churches and cathedrals
With Dublin Castle, Christchurch and St. Patrick cathedral Dublin has beautiful historical buildings. For a small amount it is possible to visit these nice spots. Besides that the city area is very compact so it is easy for sightseeing because everything is near and within reach.
Guinness Brewery
Also for tourists without a preference for beer it is very interesting to see how Irelands most favorite drink is made.
Temple Bar
The Temple bar region is the 'place to be' at night. Very many bars and restaurants to pick from. First let's have  a nice dinner and afterwards a visit to a local pub. At 8 pm many pubs are full with people already, because most pubs have to close at 11.30 pm. The Irish people know how to drink and party  very well. The music  played is simple, but so pleasant to listen to. There is a man with a guitar standing  in a corner, he is playing great "Sing-alongs".
Just as a surprise visit Dublin is a great city to visit. For sure, it is Ireland, so the weather may not be splendid the entire stay, but that is exactly what makes this country so beautiful and green!
Cheers!