When nature calls and nobody is home
We know that airlines are forever looking to economise, but slightly uncomfortable and squirming news reached us at Bott Aviation about a recent United Airlines flight from London to San Francisco which ran out of toilet paper.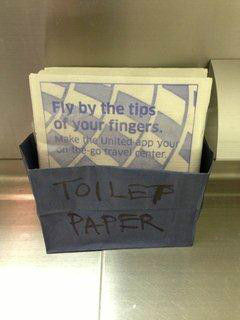 The problem occurred after the airline allegedly forgot to restock its supply, leading to them running out half way over the Atlantic. Enterprising cabin crew provided cocktail napkins for passengers instead, making the best of what could have been a horrendous situation. A United Airlines spokesman confirmed "The aircraft ran low on toilet tissue and our crew improvised and provided customers with paper napkins. We apologise to our customers on the flight for the inconvenience and would like the opportunity to welcome them back". A user on flyertalk.com provided images of the makeshift holder for all to see. We can't help but be grateful this hasn't occurred on a Ryanair flight; we have terrifying images of cabin crew auctioning off the remaining bits of paper to the highest bidder.