Who's on board? Passenger charged no-show fee after flying and arriving at destination!
In this technological age of high aviation security you would think that an airline would know exactly who is sitting on the plane and who has failed to show up for the flight.  But it seems the American airline, Southwest did not, when one of its customers was charged as a 'no show' AFTER he had flown to his destination.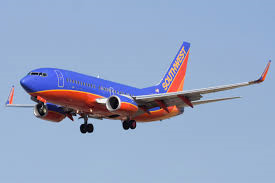 US citizen Mr Woudstra bought a ticket from Grand Rapids, Michigan to Ft Myers in Florida, paying $616 for the round trip. On the day of the flight Woudstra arrived at the airport with his carry-on luggage and presented his boarding pass and driving license to get through security. He boarded the aircraft at the Southwest gate and was met by an air hostess who ran his boarding pass through the scanner. Mr Woudstra even commented when the machine failed to beep the first time and she scanned it again. The flight when smoothly so passenger Woudstra was amazed when he received an email from Southwest a couple of hours after he had arrived at his destination saying his ticket for his return flight had been cancelled as he hadn't shown up for the first leg of the journey! Although he disregarded the email as spam at first – how could he have been a no show when he was actually in Florida – Mr Woudstra had to buy another ticket, at a cost of $456.00 in order to return to home. On returning to Grand Rapids, Michigan Woudstra, who now had paid twice for the same journey, contacted the airline to ask them for an explanation and a refund for the second purchase. Imagine his surprise when he was told that he had to provide proof, such as a receipt from the airport, that he had been on the flight to Florida on that specific day. Mr Woudstra hadn't bought anything at the departure airport, but, fortunately he had flown with a friend who could verify his attendance. Southwest Airlines says it is investigating what happened and has refunded the price of the second ticket. Spokesperson Lisa Teller says, "although we still haven't determined exactly where an error occurred, we will make an exception to the no show policy and refund the price of the second ticket." How very kind of them indeed!